Rogers Pass Appetizer
April 1, 2011
Roger's Blitz from Allen Taylor on Vimeo.
Faced with the unusual problem of too much snow around Baker, Allen, James, and I decided to head out of town to an area that wasn't having our problem. The destination; Rogers Pass, BC.
Waking up at 3AM never feels normal, no matter how often you do it, and it certainly didn't the morning we left America. Our plan called for an early morning start, followed by a caffeine and optimism fueled cannonball run to Rogers Pass. If everything went according to plan, we'd arrive mid-morning and have most of a day of sleep deprived skiing ahead of us. The following morning, we'd wake up early, ski until it was dark, and then drive back to the land of the free.
Seeing as this was a trip to Canada, and that I have a pretty bad success rate with trips to canada (remember THIS?), it wasn't surprising that we got stopped at the border. What followed was rather more unusual though. After the normal search of the car, and raised eyebrows, we faced further questioning.
"What are you really doing in Canada?…. are you here for work?…. do you know that it's avalanche season?…. can you prove that you have health insurance? We don't want you to be a burden on the tax payer…. in my 10 years as a border guard I've never seen anything like this, what are you REALLY doing in Canada?"
After a thorough hour-and-a-half long interrogation, during which we were required to prove that we had health insurance to cover our inevitable accident, we were finally allowed into our third world neighbor to the north.
Thus began our odyssey. The drive was supposed to take only 6 hours, but the border hold up, a raging snowstorm in the coast mountains, and finally lots of avalanche control work at Rogers pass, prolonged it to a full 12. When we finally got to the height of Rogers Pass, we were jittery from the coffee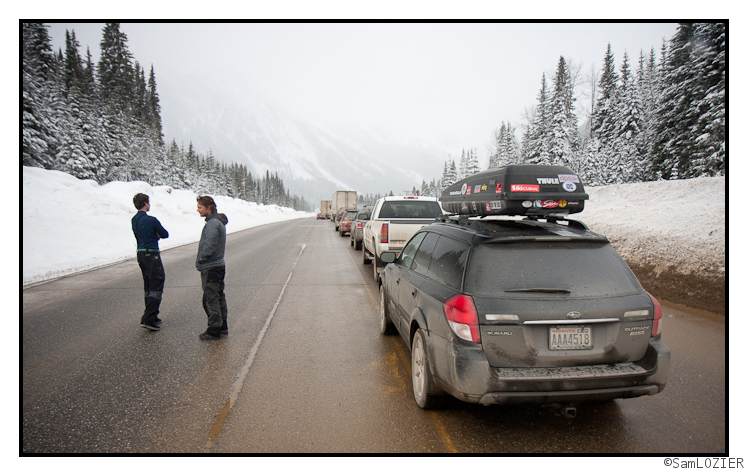 Waiting for the road to open… for the second time that day.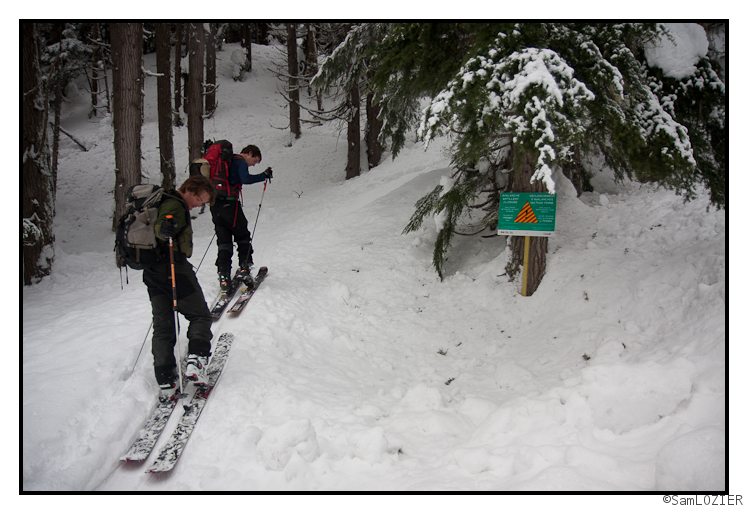 The park ranger at the lodge did his best to temper our expectations, but after driving for 12 hours we would have settled for just about anything.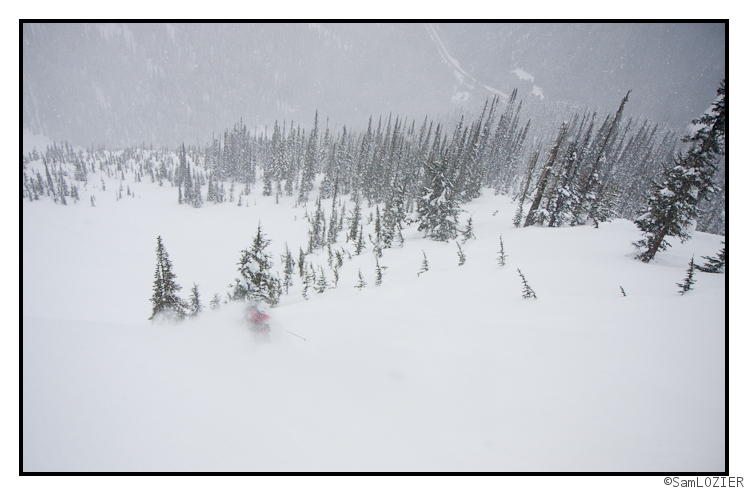 "There is a bunch of warmed up tree-bombed snow up there, it's pretty slushy", said the park ranger. Yeah, sure, whatever, that's why I could hardly see Allen…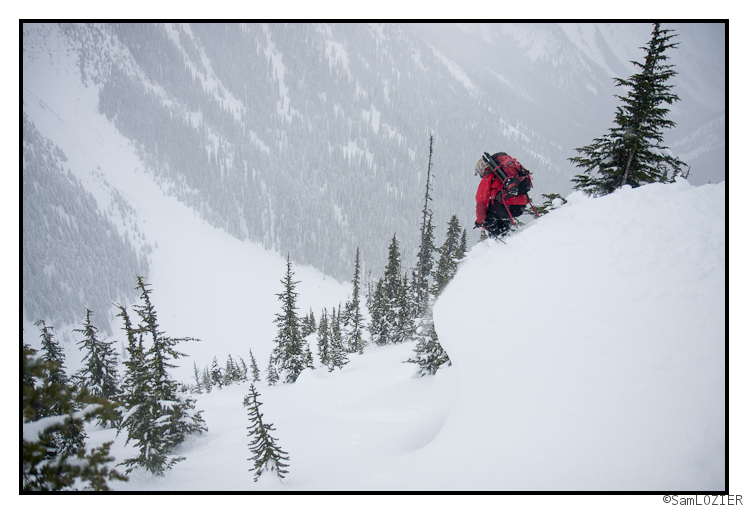 Due to our late arrival, the clouds, and the high avalanche danger, we pretty much stuck to the bunny hills behind the lodge. Luckily the bunny hill consisted of 2000 feet of steep pillows and christmas trees.
Near the bottom, our run got steeper and turned into a chute.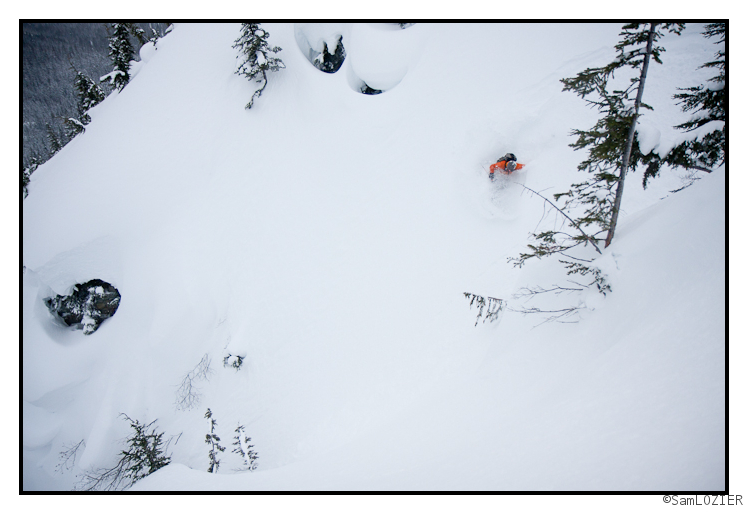 James checked-up and considered his options.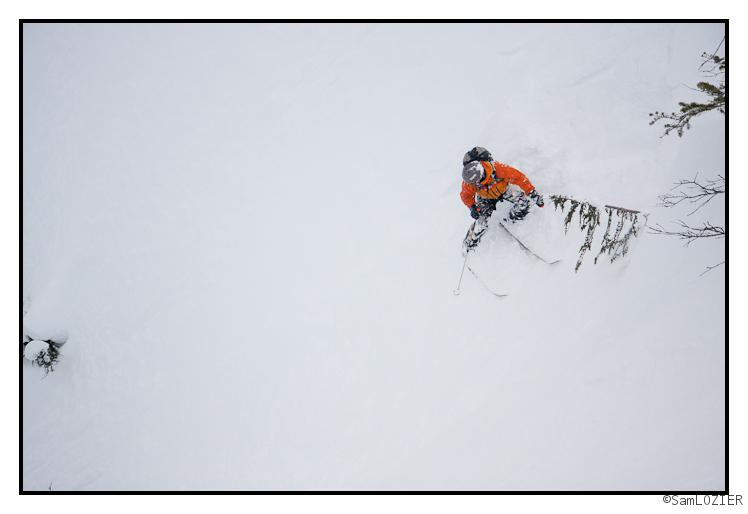 We prepared our post-ski feast in the parking lot before retreating to the bar.

This picture is a perfect metaphor for the trip, it lacks both focus and development yet somehow is packed full of fun and exhaustion.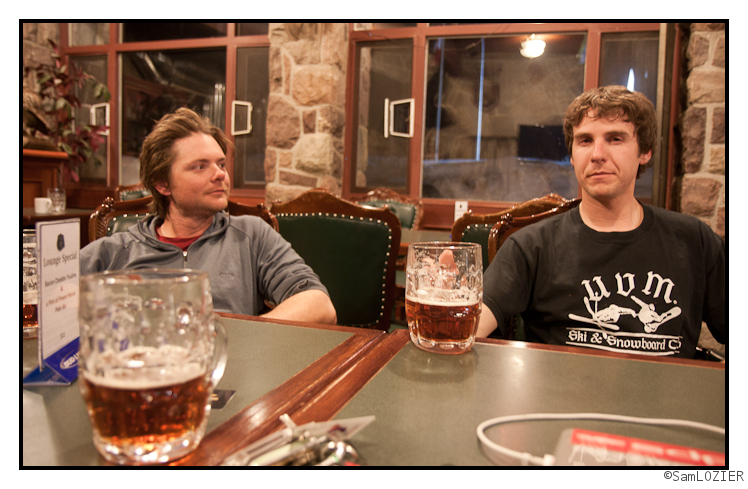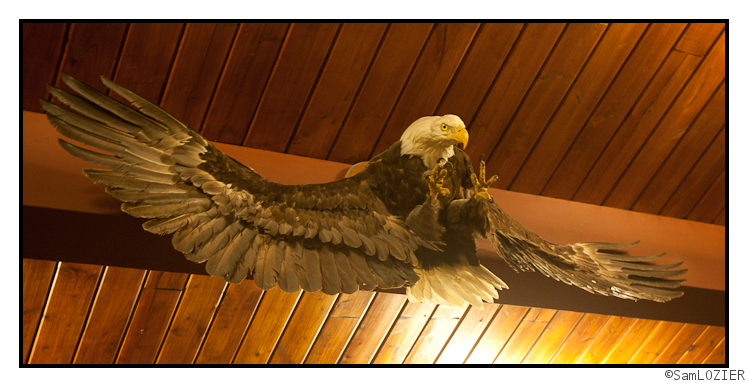 It's a little awkward hanging out with this guy (and all the other dead animals in the room) while you're trying to enjoy your….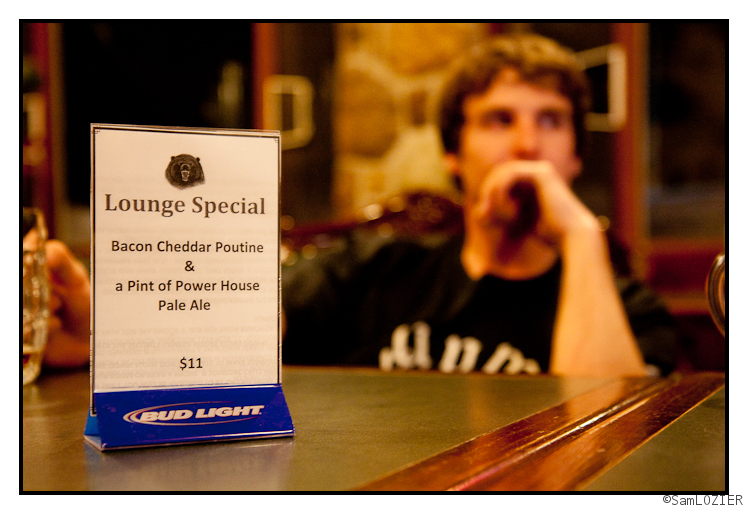 ---
Read about the author:
Sam
---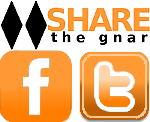 11 Comments
Please consider visiting our sponsors.
Leave a Reply