The Juuux
September 23, 2012
We got back to the yurt, knowing this would be our last night here, and we'd have to be on our way early the next morning. But we had a little problem, we'd packed up so many beers, that we had an excess.  This is a rare problem for this crew, but we knew how to handle it.
Ben, Perry and I put the pedal to the metal and got down to drinking! All the while, dinner was cooking, and a GIANT game of bananagrams was going on. For the uninitiated, Bananagrams, is like free form scrabble.
Back to the present.
Here we are playing a 12 person game of Banagrams, it's getting rowdy with the surplus of beers, and with the knowledge that it's the last night in the yurt, we all want to be crowned King or Queen of this fantastic game.
Nearing a conclusion, Ben screams, "Banagrams," signaling that he's won.  At this point, it's customary to inspect the proclaimed winner's board and make sure there wasn't any funny business going on.  Nearing the last word of inspection, we come across a strange one, it's got THREE VOWELS and TWO VERY OBSCURE CONSONANTS!
The word, as you can probably guess was – juuux.
With the collective eyebrow raised, we ask Ben, "Well, if you're claiming that's a word, what exactly does it mean."
And quickly, Ben coined a term that is sure to stand the test of time, "You know, it like when something gets messed up unintentionally. Like ooooh no, the rope got snagged on the rappel, we'er totally Juuuxt. Or when you fall over peeling your skins! Juuux!"
With some initial consternation, our crew accepted his entry and crowned him the victor. If you could define a term as surely as that, it must be a word!
Knowing fully well we'd be making an addition to Webster's when we got back to civilization we slept well.  Or maybe it was the obscene amounts of booze that we valiantly tried to polish off.  Either way, something magical happened on that last night in the yurt.  It snowed! And a lot!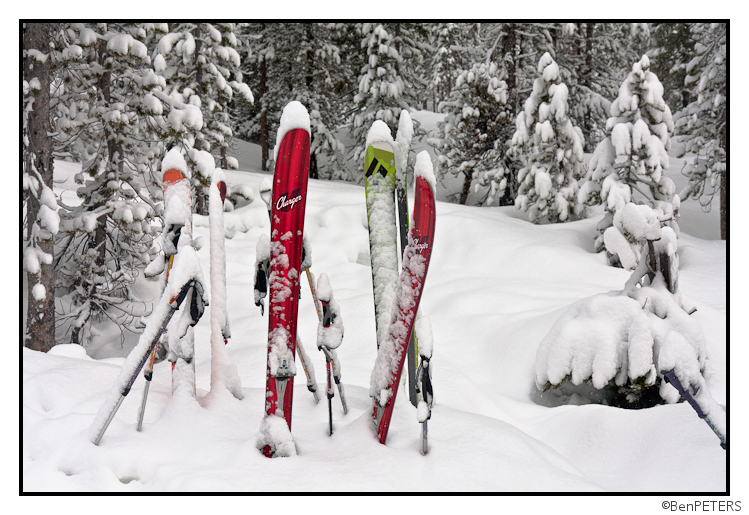 We awoke and realized we had a few hours left to ski, if we wanted to!  We hit the skin track, with juuux variants getting spit out here and there – Juuuxtaposing, Juuuxtifing, Juuuxsching!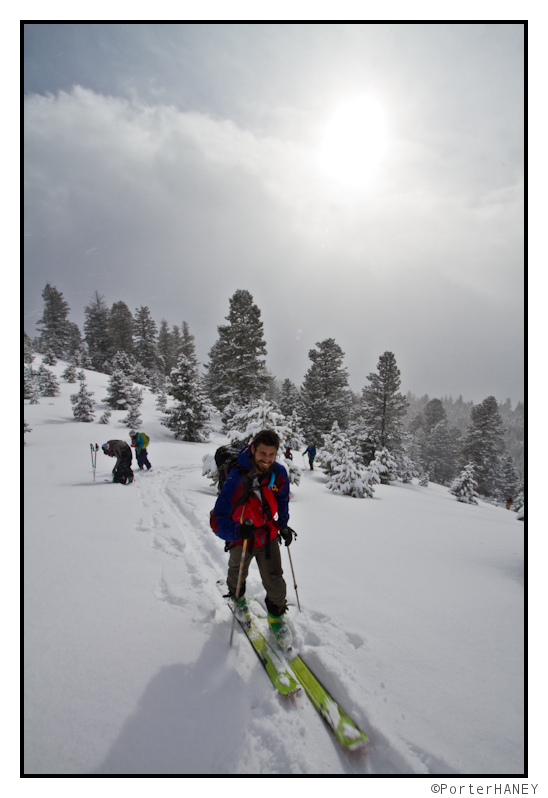 To the top of the triangle, the sun was starting to come out. We knew late in the year, if the sun got to the snow before we did, it would start to deteriorate in quality.  We hustled up and dropped in.
The snow was of the best quality, and we quickly started packing it down!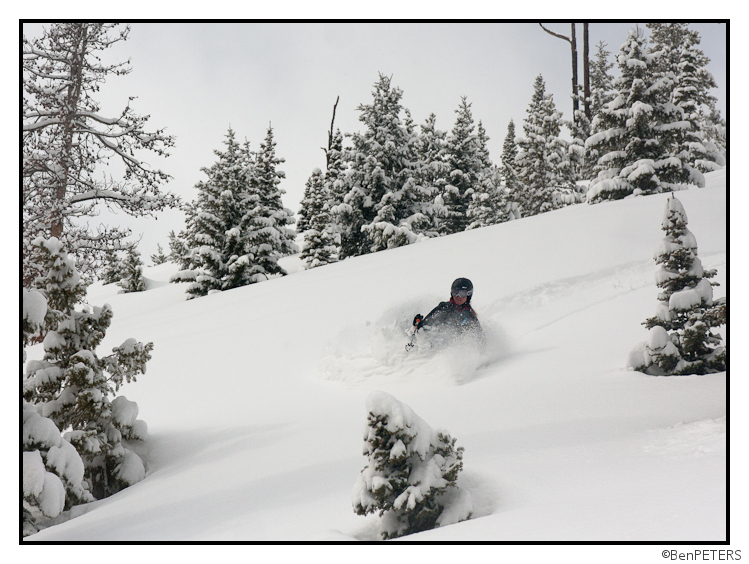 Ben even gave us a classic look at him inspecting his bicep mid powder turn!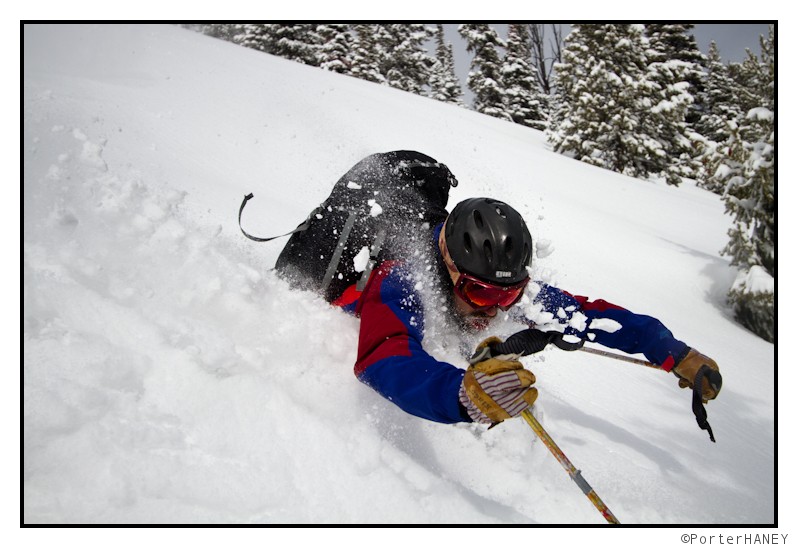 With 12 of us skiing the same tree'd slope, we quickly packed down the pow.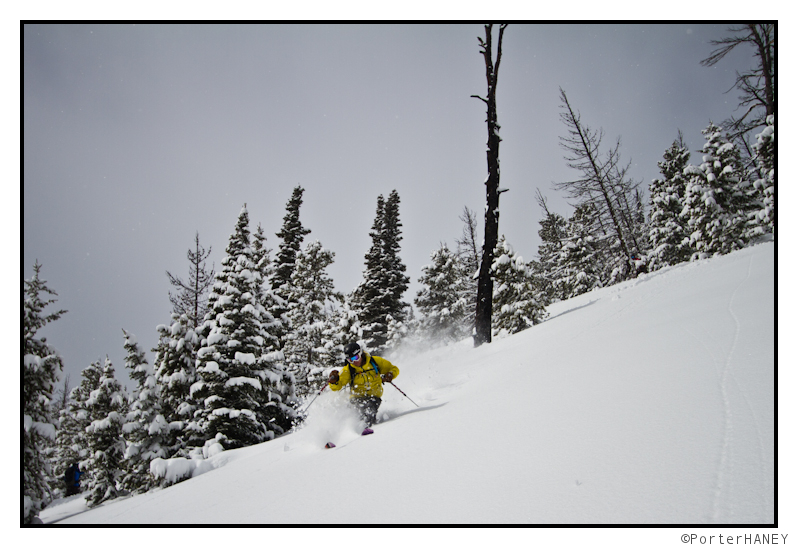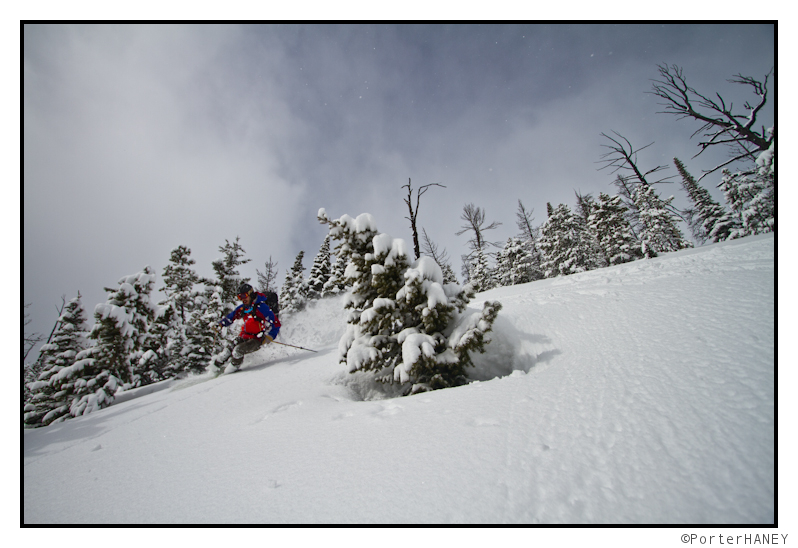 Back at the bottom, we decided to take one last lap before we departed.  It'd be rude not to.
We dropped into some powder chutes and did what we do best! Ski!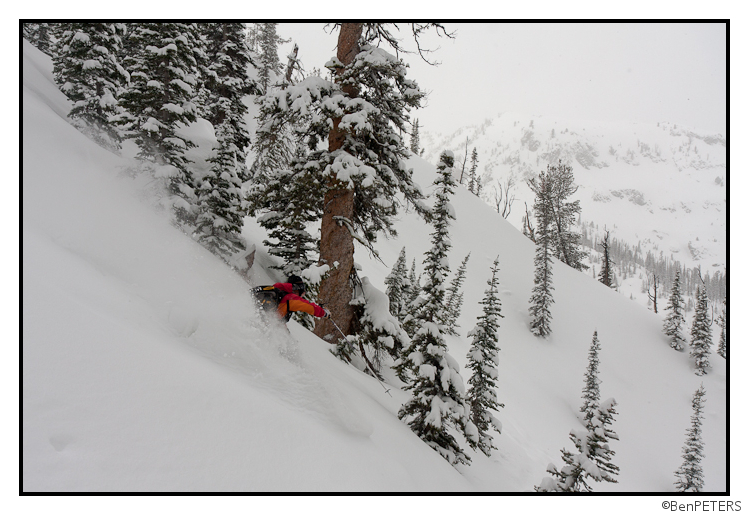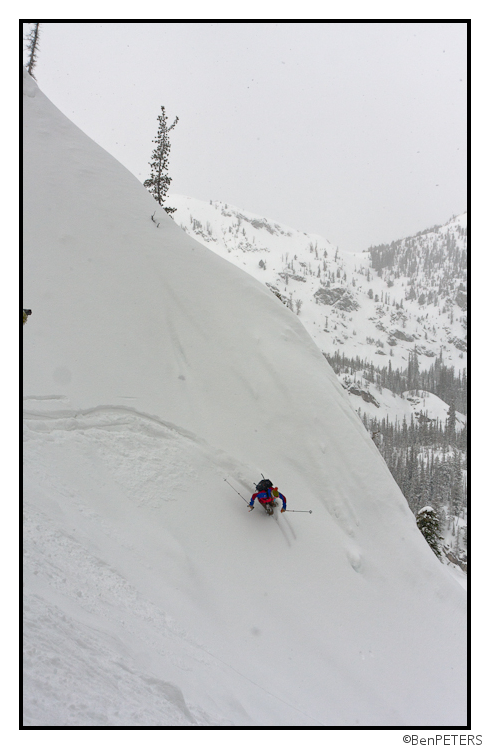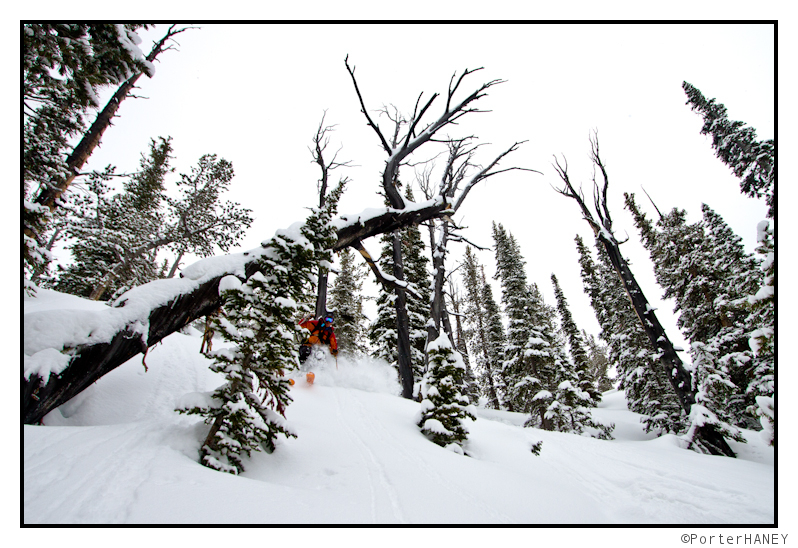 And ironically enough, our trip was exactly the opposite of a Juuux.  Everything went to spec, and we had some incredible powder skiing with some wonderful friends.
Before I go, I'll caution you to one thing before you adopt Juuux into your lexicon. Don't even think for a second the past tense of Juuux is Juuuxed, because it's not – it's Juuuxt!  Use it liberally and with a smile on your face.
Cheers!
---
Read about the author:
Porter Haney
---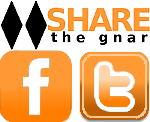 9 Comments
Please consider visiting our sponsors.
Leave a Reply