January 30, 2012 7:27 am | Category:
Weather
On friday night I had a dream. In my dream I was watching a southern stream low move through Conn with a central pressure around 996 MB. I remember distinctly the date. February 6th. I was in Austria and was posting this data on facebook with the comment: "for my friends back home, I left you a present." It was bringing snow to the Northeast. We were all stoked.
This morning's GFS: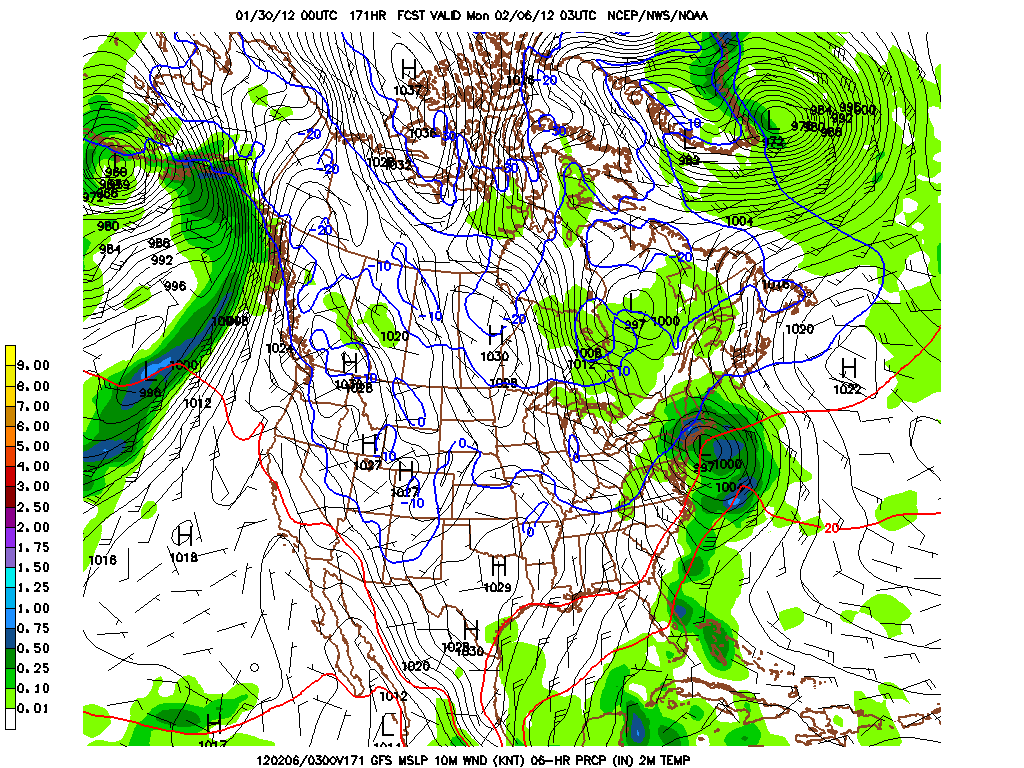 I kid you not. You can ask Greg. I'm freaked out.
Now dreaming is one thing but backing it up with statistics is another. And that is where this gets weird. Around that time the ensemble outlooks have a small dip in the NAO toward negative, with a positive PNA and negative AO. Combined that's certainly supportive of a moderately strong East Coast storm. Will it come to pass? I don't know. Nobody can tell if you'll need the fat skis this far out. However, I do favor the period from 2/4 to 2/6 or so for east coast storminess. Beyond that numerical models show a sustained winter like pattern through the second week of February. Take note though- we've seen similar model solutions several times this year only to have rain events develop as northern stream storms intensify more deeply than forecasted, and move more warm air into the region turning light snow clippers into misty messy events.
Before this we'll have another few inches tonight into tomorrow am as energy ejects westward. It's possible some low elevation mixed precip occurs but above 2000 feet this will be all snow. All in all that will bring 4 days totals to almost a foot across much of the ADK and Greens. Which is frankly impossible if you buy the prevailing narrative that this winter is terrible. I'd be lying if I said I agreed with you. I said it in october, and I'll say it now. This is an elevation dependent winter. We'll get close to average at the stake while BTV and the base areas suffer. Sure we started below average but if you go back to Mid December it's actually been a pretty steady winter pattern. While not featuring some of the block buster nor'easters of the last two years, we've seen several 3-5 days stretches of sustained snow showers adding up to 8-14 inches. Not good for the gapers to get stoked, but good for those willing to wait and put the time time in to get zee powz (I'm off to Austria soon so I gotta practice zee German). So really, stop sticking with the crowd and saying this winter sucks. Make the best of what you got and go get some powder as I think this pattern generally continues thru February. Albeit I do think we'll see greater chances for larger storms during that period but overall I suspect confused elevation dependent waves of energy will be the norm.
Of course if the pows don't come, the piste has been glorious this year. Don't believe me? Just ask the young Alces alces who was out working on the stem christie with Greg.
Ok. I'm out. I gotta shower (In POW).
UPDATE: In looking at the latest long range model runs it looks like excitement for next week should be tempered. While there is still the chance for a storm in the 2/5-2/7 range as energy from the west moves into the east, it looks like a suppressed solution at this time. This bears watching but it looks like in it's wake we'll see a similar flat gradient pattern to what we've been in. GFS wants to now push the "winter" back another 5 days or so…which is a model trend nobody likes to see.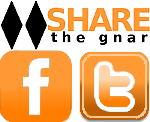 Tags:
East Coast
,
Lionel Hutz Weather
,
lionelhutz
,
lionelhutz ski weather
,
Mount Mansfield
,
Powder
,
Powder Skiing
,
ski forecast
,
Ski Weather
,
Upslope snow
,
Vermont
,
Vermont Powder
,
Vermont Ski Forecast
,
Vermont Ski Weather
,
Vermont Upslope Snow
,
Weather
17 Comments
Please consider visiting our sponsors.
Leave a Reply