December 5, 2011 10:24 am | Category:
Weather
Been a bit warm around these parts. Or so I've heard. I've been too busy sacrificing goats and virgins to Ullr to pay attention. And maybe it worked out as it looks like we'll have the return to a more seasonal pattern over the next ten days.
But first, a few thoughts on the near term weather this week.
Currently there is a cold front off to the west. This will push through the region sometime tomorrow. Moisture out front will fall as rain. YAY! The front SHOULD stall somewhere to the south and east running through southern NY, Mass and NH. Following that, a weak wave of energy will ride along and bring some light snow showers to the higher terrain.
A second stronger wave looks to develop sometime Wednesday. This is the wave i've been hinting at for a while now on twitter and facebook. Last week this wave looked like it wanted to develop into nice little snow maker for us. Now it doesn't look so good. Looks like it stays open and passes to the south and east. Only really bringing snows to Maine if that. However, I'd like to add that until we see where this front stalls and where this wave develops late Tuesday, further meaningful analysis should be withheld.
UPDATE UPDATE UPDATE:
With the front's location and timing starting to get resolved the major weather models are displaying some really interesting and noteworthy solutions. As of today, tuesday here's the basic set up.
Sometime a 500mb trough moving over the carolina piedmont will spark the development of a surface low. This low will ride up and as the trough becomes negatively tilted with height somewhere over NJ/NY the low will rapidly depen and begin to occlude.
Once the low develops the pattern will look like this (trying a new image editor…and I don't like it…anyway)

So lets follow along. The black lines represent the position of the H5 trough first on wednesday when it's deeply dug into the south and then more importantly, on thursday when it's taken a negative around Delaware. (Editors note: I spent like a good 30 minutes figuring out the joke for "negative tilt" and "Delaware" and didn't come up with anything but I know there is a Lolz in there). Anyway, the steep trough will spark a low to develop and ride along the frontal boundary…marked as a blue line.
By EARLY thursday morning the low will have reached the NY/Conn region and intensified sucking nice wet maritime air in from the ocean (green arrow) and pulling cold air in from the northwest (blue arrows). The result….is potentially heavy snow in the catskills, Berkshires and south NH. Again.
Here are two of the latest total water outputs: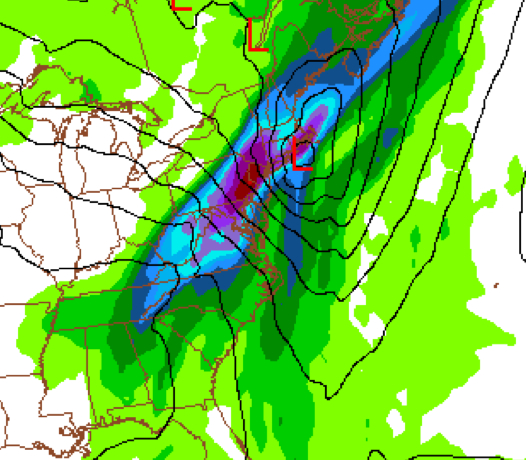 and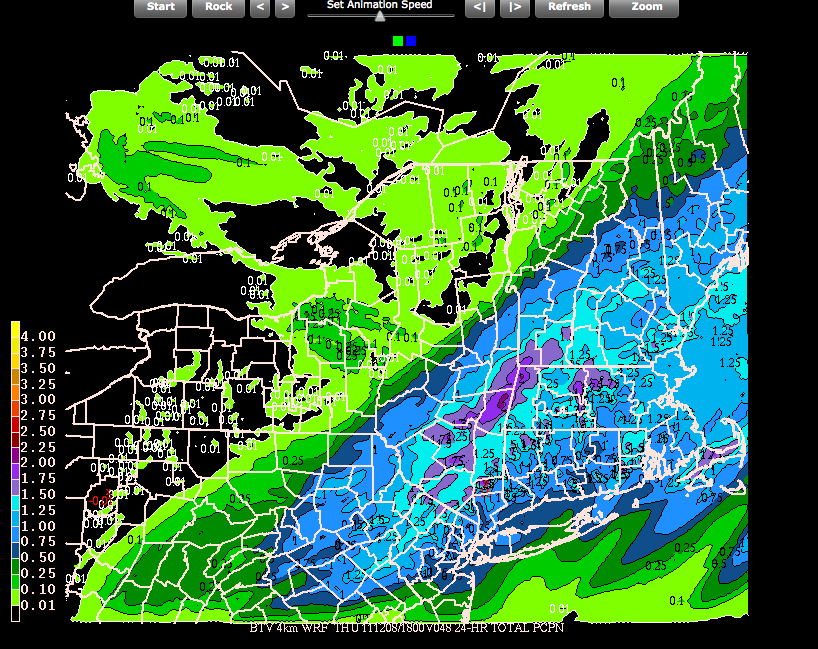 That is excellent.
So what's my take? Well I think the dead bullseye right now is the Berkshires where upwards of 1-2 feet of snow could fall. THere should be a similar strip of heavy snow extending back through the catskills and then on into southern NH. The caveat here is that THE THERMAL PROFILE HAS TO STAYS COLD ENOUGH. I know that's a platitude but it's true. Right now there is some doubt in my mind that the models are handling the temperature of this system properly. ITS very possible that much of this qpf falls as heavy mixed precip. The Albany NWS certainly has taken this approach and it has merit. I'm being hopeful and going with what Ullr has shown us he wants to do….not more than 6 weeks ago a storm with a similar track just dropped BOMBS on this region and I trust the past until proven otherwise.
North of that – in southern VT I think we could see 6-9 inches of snow with 3-5 north along the spine with Rutland being the dividing line between the 6-9 band to the south and the 3-5 totals to the north. However by the time we get all the way up to Route 2 don't expect too much. At least that's how it looks now.
Over in the NH we'll see heavy snow in southern NH with the possibility for MT. Wash, if this pivots just a touch more to the NW to get into the 1-2 foot band easy.
Like much of Nor. VT, the ADK – and esp. the High Peaks – look to be hung out mostly dry for this event.
Beyond Delta, over the weekend we will likely get a shot of reinforcing cold air and possibly tap some great lakes moisture for an upslope event. But that's a ways off and I need to address the REALLY long range first.
Looking LONG term, the forecast looks more wintery than it has in months. Currently the NAO, AO and PNA are all in just about the worst state for EC cold and snow. However, as show below, the ensemble forecasts for all three teleconnections show a return to a more neutral state. (red lines are individual forecasts of the ensemble system)
AO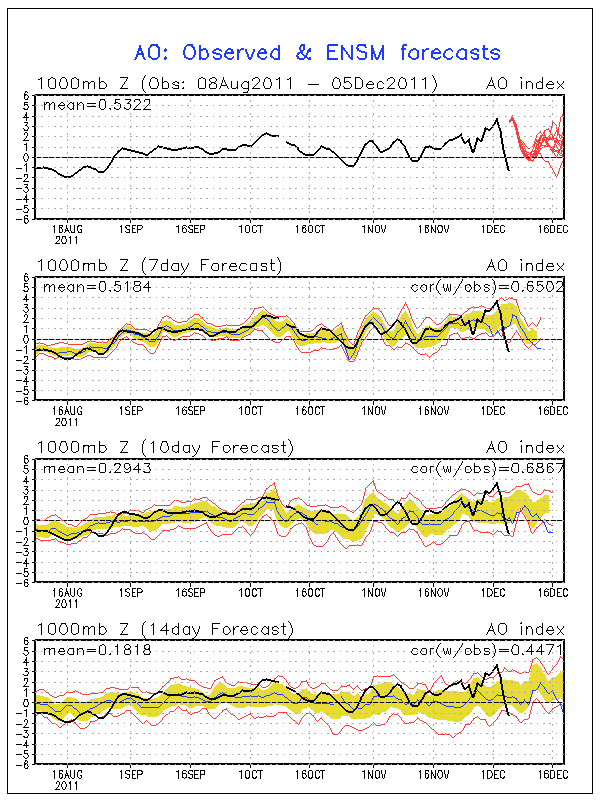 NAO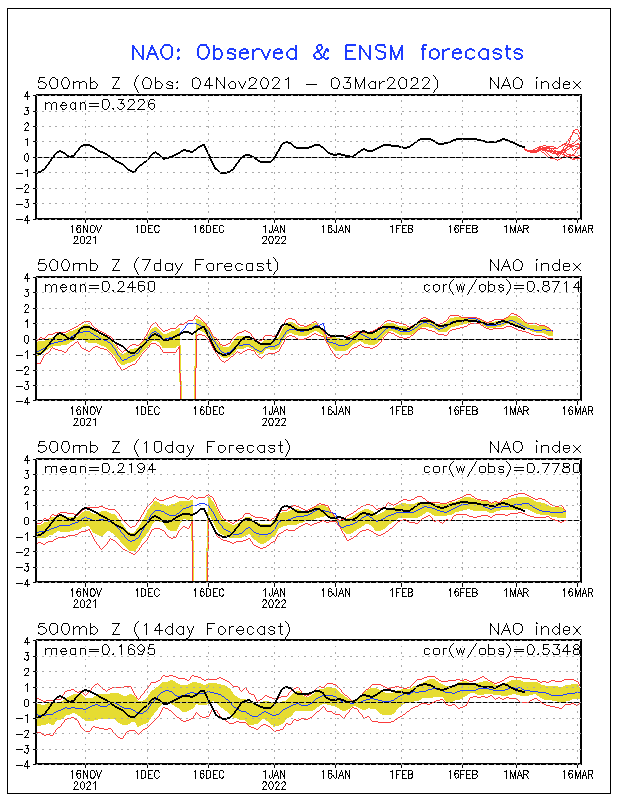 PNA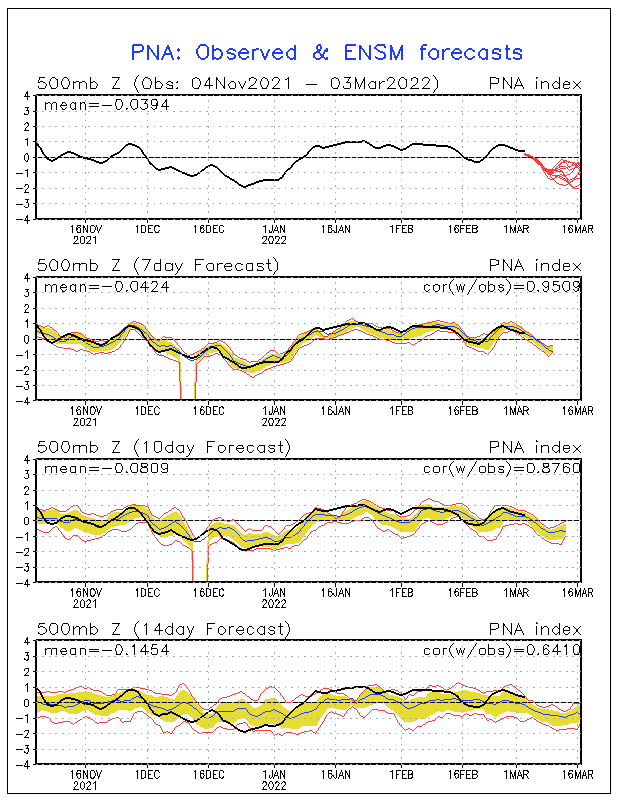 So while I can't say we're going to pow-town or in store for any dy-no-mite events, a neutral state at this time of year at least comes with cold temps supportive of snow (natural or man-made).
All the major operational computer models are also showing run to run consistency depicting a more seasonal zonal pattern. At this point, I'll take it. So there we have it. Lets see where it goes from here and remember: It could be a lot worse.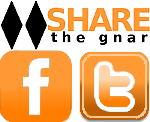 7 Comments
Please consider visiting our sponsors.
Leave a Reply