The "January Thaw" is coming to stores near you this weekend.
Since December 19 it has been unmitigated winter in the northeast. After a rainy Friday in December, the faceshot machine turned on, VTAH stopped over, the woods opened up, a nor'easter rolled in and and the bottom of the thermometer dropped out and then we had a series of little waves of joy to finish off the party.
Starting Thursday evening however that pattern looks to break. But first we have one more wave of joy. As it stands now a low pressure system will skirt to our north wednesday night. It will push a weak front across the mountains of NY and VT. That front will spark snow across the higher terrain. A few days ago this event wasn't looking too robust..if it existed at all on the models. However, the latest models are much more interesting. Instead of just a dusting of snow, the higher resolution models are showing something like 2-4″+ of snow. Based on the overall pattern we've been in, I support those higher totals particularly up around Jay Peak which has been the real prime spot for these waves of joy.
Following that, a ridge will build in to the east coast as the downstream counterpoint to a major trough moving into the west coast. This pattern will center the core of cold air into the intermountain west of the United States. Sorta like this: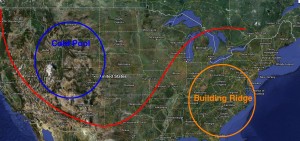 The edge of that cold high will create a frontal zone just along the Ohio valley. From Friday through Wednesday, a number of waves will ripple along that boundary. Given that we'll be on the "warm" side of this baroclinic zone, we'll see mostly light rain from these weak lows.
The first of these waves will move in Friday bringing some rain to the Northeast, with a break on Saturday into sunday, and then another wave Sunday-Monday, and a last one Tuesday-Wednesday that likely finishes with snow and a pattern change. None of these waves looks like a major rain maker, but each will induce a few showers, some briefly heavy, over the 5 day period.
Now, following this period, it looks COLD. VERY cold in fact. All major models are showing the development of a cold active pattern with summit temps in the -30c range and steady weak low pressure systems moving through the region. With the AO set to tank and the PNA set to return to a positive phase, this has support from key teleconnections. So don't despair, winter looks poised for a return shortly.
The flip side of this pattern reversal will be snow out west. As the trough moves into the west it will spark snow across the intermountain west. In Utah the front and the following unstable low looks to produce something in the realm of 1-2 feet of new snow from later afternoon Thursday into Saturday.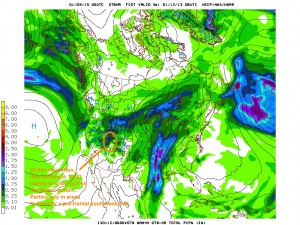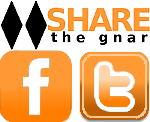 Tags:
lionelhutz
,
lionelhutz ski weather
,
little waves of joy
,
ski forecast
,
Ski Weather
,
Upslope snow
,
Vermont Ski Weather
,
Vermont Upslope Snow
,
Wasatch
,
Weather
,
West Coast
6 Comments
Please consider visiting our sponsors.
Leave a Reply