It's funny, you move around all summer. Hiking, biking, and climbing.  You make a lot of smiles, beautiful pictures, and wonderful memories. But, if you look back up at the mountain you'd be hard pressed to find any physical evidence that you'd just had a glorious day enjoying her presence. That is until Old Man Winter arrives and lays down a blanket atop the mountain. He turns the mountain into a heap of vertical and a blank canvas awaiting your signature.
We call the signature our skis leave Laying Tracks.
Figuratively, you can lay tracks each and every day by putting all your effort behind something. Giving all your gusto. But's it's just figurative. If you're picking up what I'm putting down?
Literally, you can only lay tracks on a few mediums. SNOW is the best of them. When you've just schussed your way down the hill, and you look over your shoulder, you can see exactly where you've been. It's a whole different kind of gratification.
So, you want to lay some tracks? We'll let us stoke your fire. Here's to the first tracks of the Winter of 2011/12.
On my way around the corner towards the mountain I didn't know if we'd be skiing foliage or snoliage. The hills answered my question for me.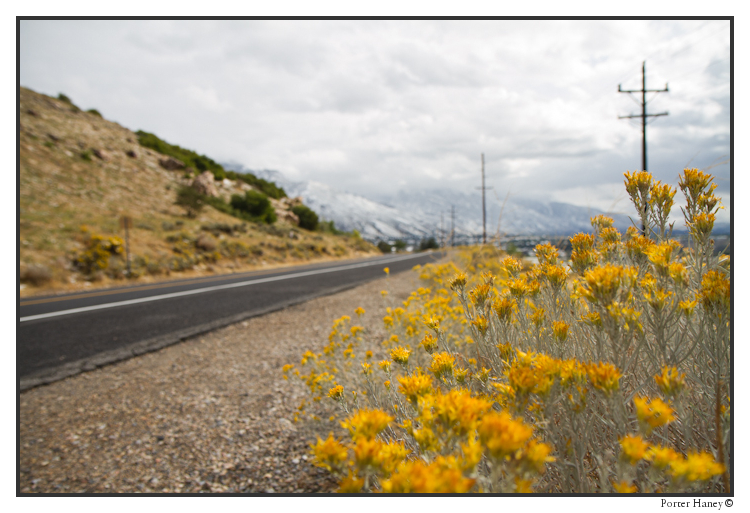 Getting a little further up the hill I was questioning whether the Aspen's would have any of their golden hued leaves left. Again, the hills answered my question resoundingly.  OUI.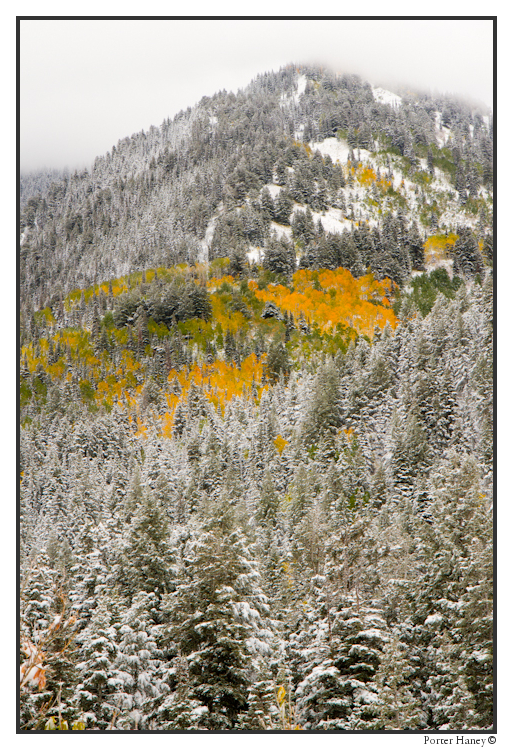 We pulled into the parking lot at the Collins Lift at Alta. It looked like the world donut championships had taken place. There wasn't a tire track that aimed in a consistent direction. Pretty quickly Peters claimed, "I got my first faceshot of the season before you did!" He wasn't lying either… too bad his windshield got the majority of the goods.
Our crew was large today, as it normally is on the first day of the season. The enthusiasm was infectious and our skinning crew was singing almost entirely up the track. Perry led the way, as it was his 25th Birthday, followed by Peters, Kate, Stew, Altman, and myself.
Perry's the kind of guy to grab life by the horns, and shake it. And he did just that, on his 25th Birthday, he said no to switchbacks and laid some uphill tracks.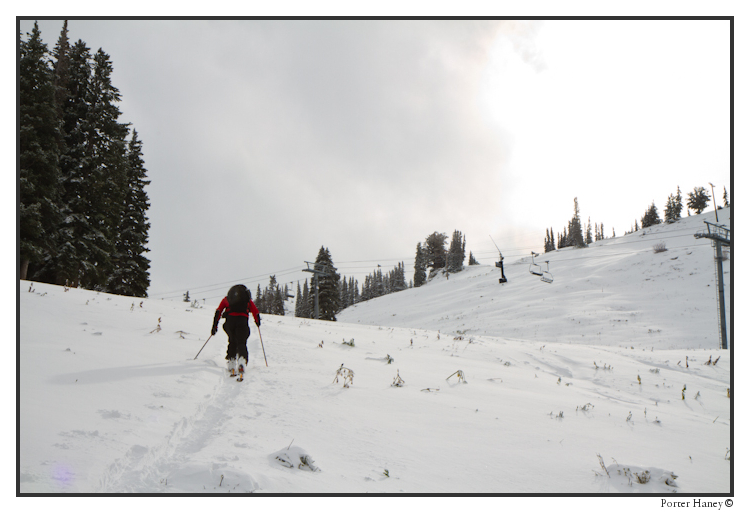 We scooted our way up the hill and to the top of the Collins lift. Home of the best low snow skiing in the Wasatch. We found grass slopes covered in nearly 2 feet of snow. We couldn't have asked for better on October 6th.
Perry pulled Heady Toppers from the Alchemist in Waterbury and we proceeded to have one the most glorious Birthday celebrations I've ever been to.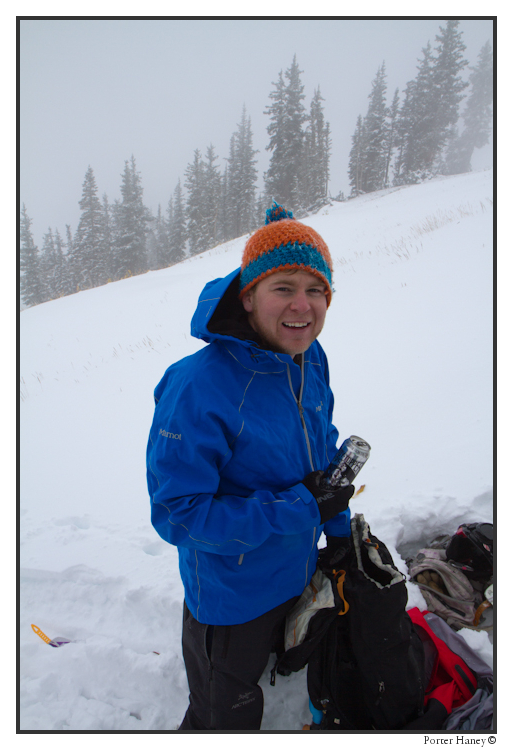 Well, enough celebration, lets get to the true gifts of this occasion. It wasn't but three turns into the day that Perry gnabbed the first face shot of the season.
BEHOLD.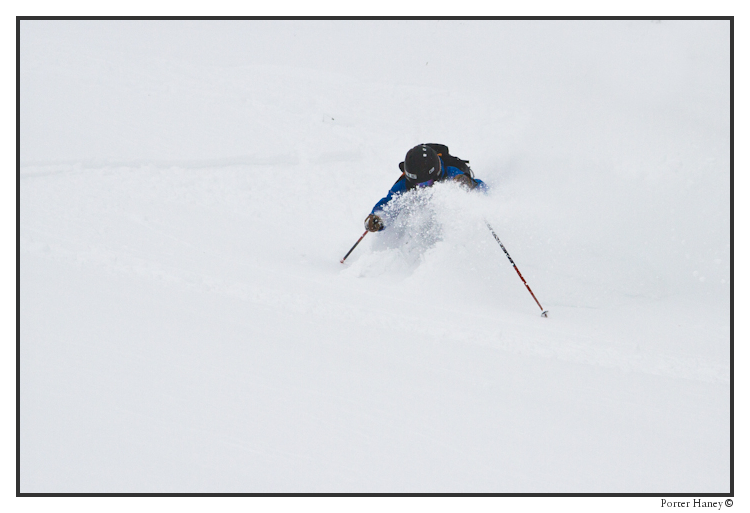 That kind of stoke isn't without some celebration either. And, we got the biggest WOOO HOOO I've heard on the hill.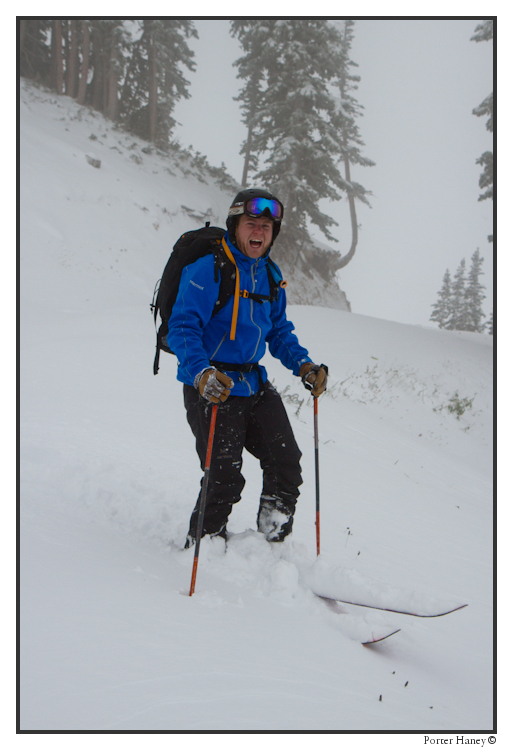 Peters came down the hill and he couldn't quite get as deep as Perry. Though he tried.
As repentance Ben burled into the stopping zone and jetted off the opposite side, pulling out the first Cossack of the season. (Though his left hand is noticeably didn't make it around.)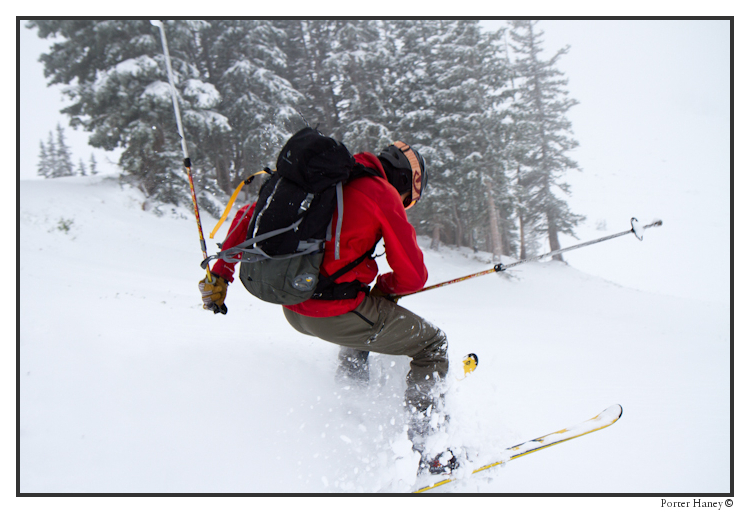 Kate busted down the hill next, and being the lightest of the group, just wasn't getting as deep as she wanted. She pulled a radical early season manuever, and went for the ground mounted front flip! Low and behold, it worked.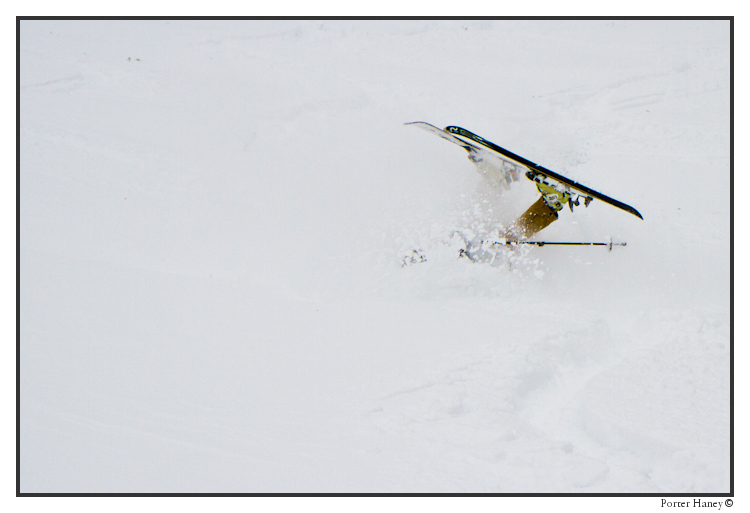 A smile and two thumbs up were the only gesture apropos for this trip.
We headed off the hill with similar results, great snow and company. Celebrating a wonderful start to the 2011/12 season.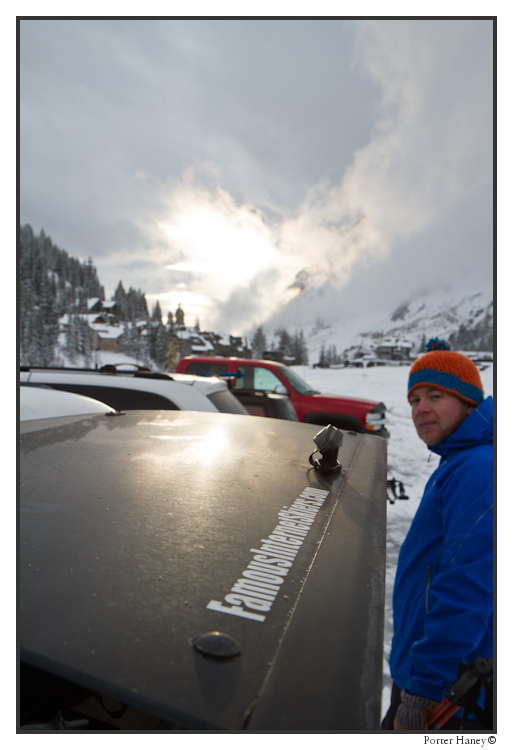 Cheers to laying your own tracks. Go get SUM.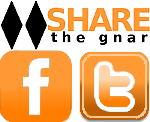 Tags:
Early Season skiing
,
laying tracks
,
porter haney photography
,
Powder Skiing
,
Snowliage
,
Utah Skiing
,
Utah Snowliage
15 Comments
Please consider visiting our sponsors.
Leave a Reply