December 6, 2010 12:00 pm | Category:
Weather
I'll get right to the point since I have neither ripped my pants, nor have any witty introductions prepared .
As we speak a large and powerful storm is churning out off the coast of Maine. As I said a week ago, this storm will be forced back towards the west by a large bubble of high pressure – that at the same time will slide out to the east making room for this large storm complex to take up residence over the eastern portions of Canada. As it does this large storm will spin a great deal of air down into the Northeast Untied States on a northwest wind. With a strong pressure gradient these winds will be robust!! A good thing. Strong winds will transport a great deal of moisture both into the North Country and transport a decent amount of moisture down from the Great Lakes into the Catskills (espically the western ones).
Lets look at the North Country first:
With a strong slow moving low pressure system rotating in eastern Canada winds in the North Country will be steady from 290to 320 degress. This is a great direction for the Greens and to a lesser extent the high peaks to induce a good deal or orographic forcing.   The models display the best low level upward motion downwind of the Greens (Maps from coolwx.com – a great site) :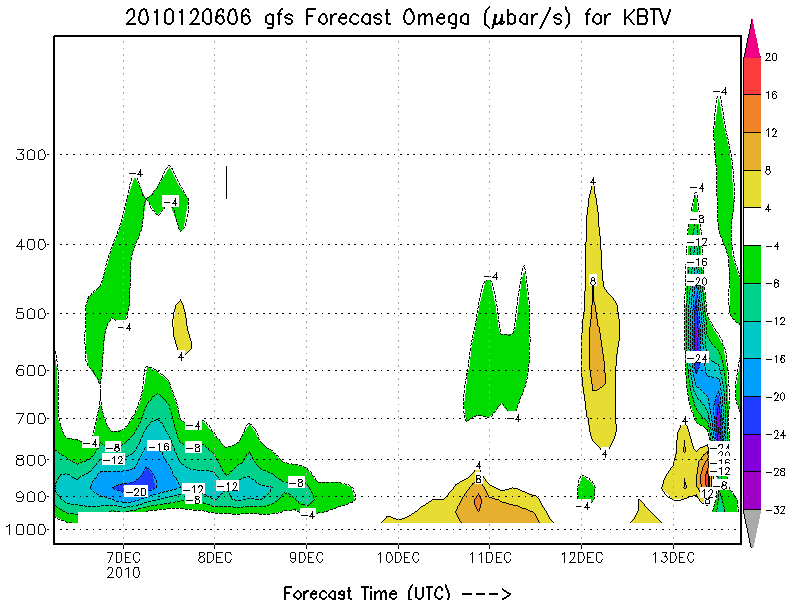 With deep moisture:

Its very very likely the Northern Greens will see steady snowfall throughout the next 36 hours at the least.  The high RES WRF model run out of BTV agrees.   It paints the Mansfield massif and Jay Peak with upward to 1 inch of total qpf.  With very favorable snow to water ratios I could see a soild 8-9 inches over the next 36 hours in these regions.
The models are also having a hard time with the Adirondack  High peaks.  The show the northern lower slopes of the Adirondacks taking most of the snow, however based on reports I've recieved from the Lake Placid area, several inches have already fallen with blower still falling HARD.  Models have a very hard time with the region because of the elevation and somewhat jumbled nature of the High Peaks.  Suffice it to say that the ADK will see sustained snow  over the next 36 hours with the best accumulations occuring on North and Northwest facing slopes.  Comparing the accumulations to those in Greens will be hard as the reporting station of whiteface is a little removed from the best dynamics and Mt. VanHo is too low at only 2k ft.  In these situations Manny and Jay to tend to do better however the High Peaks are sneaky effective at trapping snow  and given what I've seen right now on the webcams and the fact that it's positively dumping at times in L.P. I'd really not be shocked if sections of the High Peaks did even better than Manny and Jay.
Also picking up snow from this flow will be the Presi range in NH.  On a similar order of magnitude as Jay/Manny- MTW will see plenty of snow over the next 36 hours.  However with rippin winds good luck finding it on MTW.
UPDATE!!:  And yes- we are going all bold as Ms. Hutz said my level of excitement for this system was down- and it shouldn't be AT ALL!! Snowfall overnight has been very steady and accumulations are reaching a 12-20 across the High Peaks and Northern Greens.  Snow is pure blower.  Let me repeat that: One to Two FEET. As I mentioned yesterday (above) and last week– last night's strong orographic snowfall corresponded with deep moisture and a ton of lower level lift.    With strong signals that these conditions will continue through today, the snow should remain steady with another 6-8+ across the highest terrain through early wednesday.  Snow showers will then taper off and become spotty but still accumulations of 1-2 inches are possible each period until around the 10th when drier air will work in lowering RH.  Overall this is EXACTLY the types of storms I was looking for when I wrote in October "Lastly, I see many of these messy or wide right storms backing into the Canada, becoming vertically stacked, stable and steady. This is good news for us. This is a great pattern for periods of prolonged orographic snowfall. I think the best times for this will be December, and late January to the end of February." See sometimes even a blind squirrel gets the nut!
Now to the Catskills:
With VERY strong winds from the NW a good deal of moisture from the Great Lakes will be transported deep inland.  Some people call these long drawn out lake bands  "streamers."  Anyway with the flow lining up just perfectly over the next day or so, these streamers will bring moisture and snow right into the western Catskills.  A place like Plattekill, which is the furtherest west of the Catskill ski areas, and sits on really the first high ridge after the lakes will do best.  3-5 inches of snow are possible today, with another 1-2 tonight and 1-2 tomorrow at the least.  All in all a great way to set themselves up for their proposed opening weekend next saturday.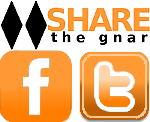 Tags:
adk ski weather
,
adk weather
,
blower
,
catskills
,
Lake Effect Snow
,
Lionel Hutz Weather
,
lionelhutz ski weather
,
Magic Snow
,
plattekill ski weather
,
Ski Weather
,
stowe jay green mountains ski weather
,
Upslope snow
,
Vermont Powder
,
Vermont Ski Weather
,
Vermont Upslope Snow
,
VTah
14 Comments
Please consider visiting our sponsors.
Leave a Reply