December 1, 2010 10:47 am | Category:
Weather
SCROLL TO THE BOTTOM FOR THE UPDATE
You know I was all set to discuss how excited I was for the upcoming period and then I ripped a hole right in the seat of my dress pants. Yep. Caught the pants on a piece of metal sticking out from a door frame and RIIIIIP. quarter sized whole right over the ol' corn-hole. Awesome. So now I either stick it out all day and try not to stand up (oddly and sadly easy for most lawyers), buy some new pants at the men's store downstairs (generally crap) or go home and change. I'm leaning towards the latter.
Somebody once said when I spilled Ketchup all over myself a few years ago "that's a go-home kinda spill." Now I'm thinking this is a "go home" kinda rip. I mean if you can have sick days why can't you have "I ripped the ass out of my pants" or "the ketchup bottle blew up on me at lunch" days? Who gets sick for more than two days a year anymore?
What does this have to do with the weather? Nothing. Get over it. It's my discussion and if you don't like hearing about my new stay cool breezeway I just had custom installed in my pants then tough luck. It will prob. rain on your head.
Now that I've gotten that off my chest let me discuss the weather. Yes I know it's raining and I'm sorry. I can't control that. It happens and will keep happening. However, it does look like some winter weather will return in both the near term and the long term.
Near Term:
As this storm pulls away towards the east and the cold front pushes through tonight some of the lingering rain will turn over to snow. As we move into Thursday, the prevailing flow will turn to west/northwest. Moist air enhanced with downstream lake moisture will hit the 'dacks and greens resulting in snow showers across the higher terrain. Given the QPF on the higher res models 3-4 inches are certainly possible with more in very select favored locations by the time we get to Friday. Notably the southern ADK and the western Catskills could also get tickled by lake effect streamers and a few extra inches are possible there as well.
Long Term:
Now this is where things get interesting. Long range models have consistently shown the development of a large and stationary, vertically stacked low centered in Eastern/Maritime Canada. This low would be hard to dislodge and would sit and spin for at least a week. Anybody familiar with the climatology of the region knows that this is generally a very good set up for VT, and the 'dacks (to a slightly lesser extent) to get sustained periods of orogrpahic snowfall. Or as we call it….magic snow.
In the series of model image captures below you can clearly see the development and persistence of this system. Before we turn to them let me explain. The leading cold front will span a low pressure system that will rotate northwestward into Canada. The front will remain in place and a second wave of low pressure will develop and take a similar path. As it does it will reinforce the stalling first low. At the same time a high pressure system over Greenland will slide to the east allowing these stationary lows to swell in size and influence. The system of surface lows developing and sliding into the stalled low will repeat several times. This will all work to lock in a moist cyclonic flow over the North Country. I've drawn some arrows to help illustrate the motion and the flow patterns: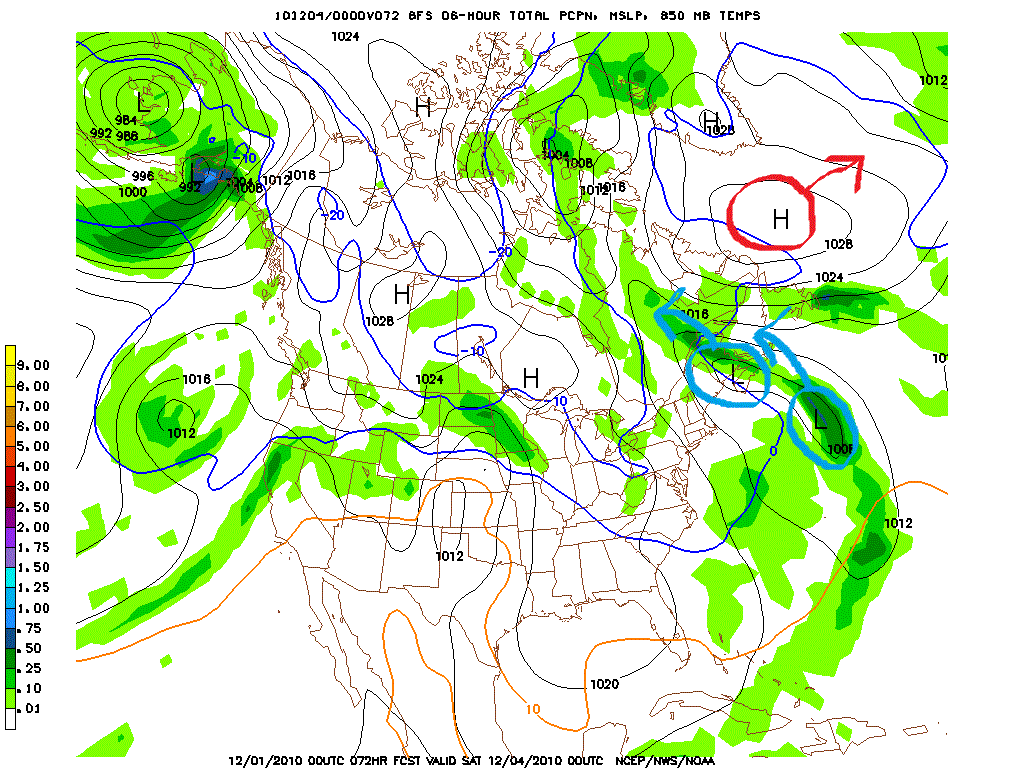 Now you can see the High moving to the east and the second low sliding into to the first.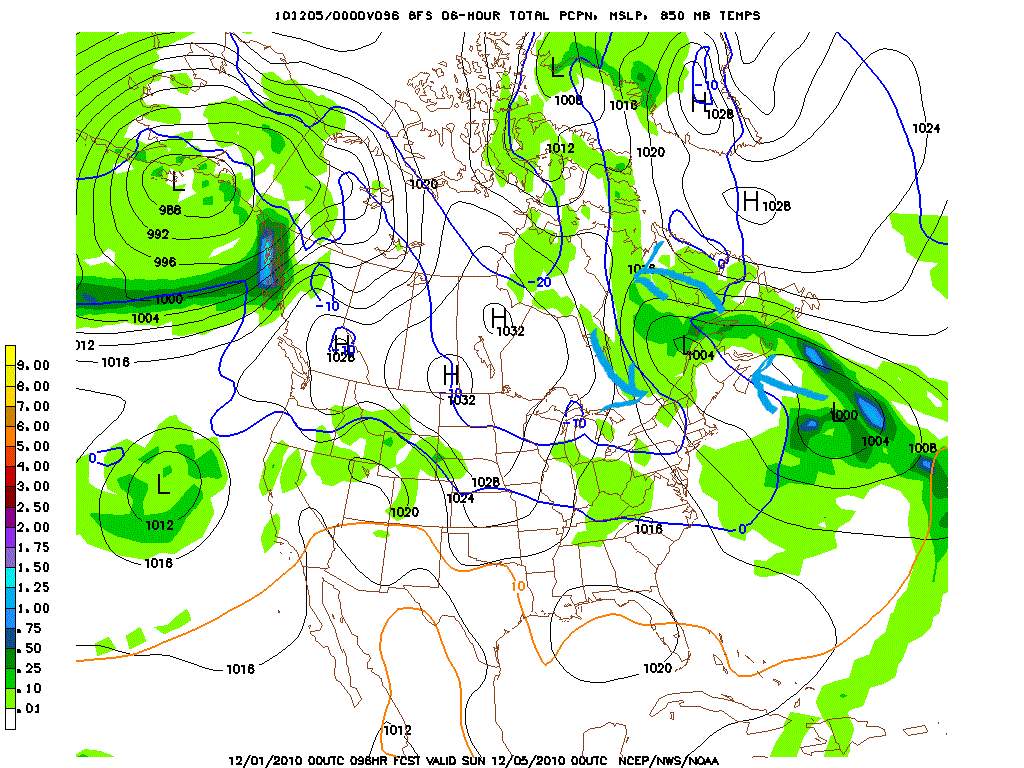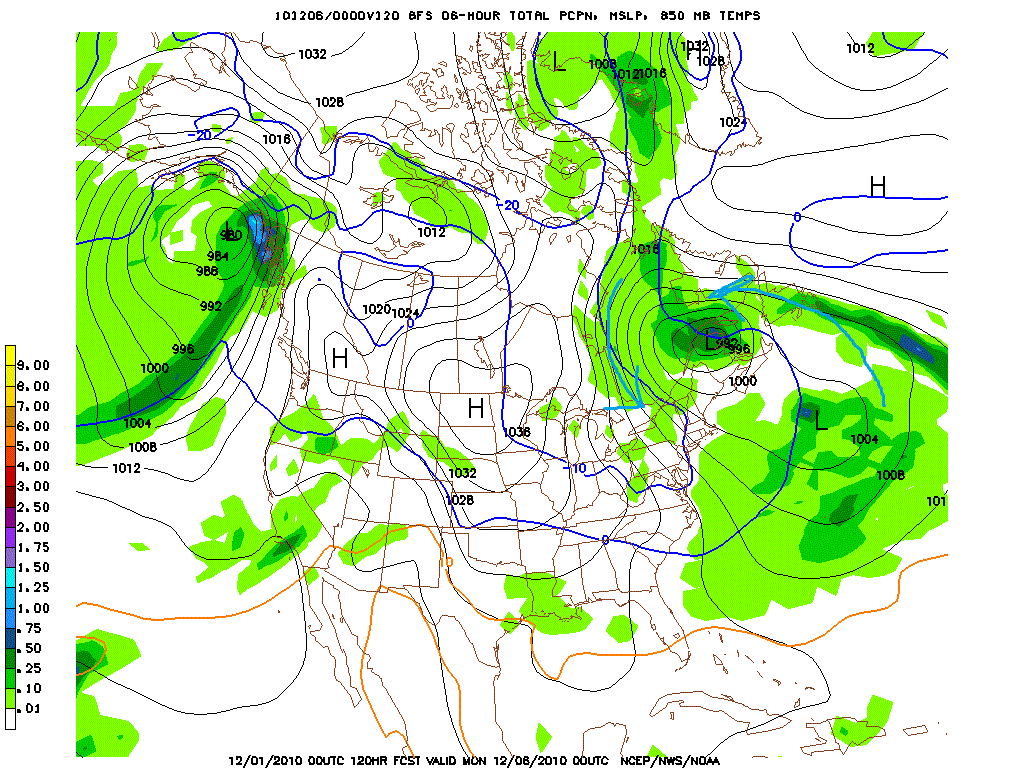 The high is out of the picture and we have a large complex stationary low.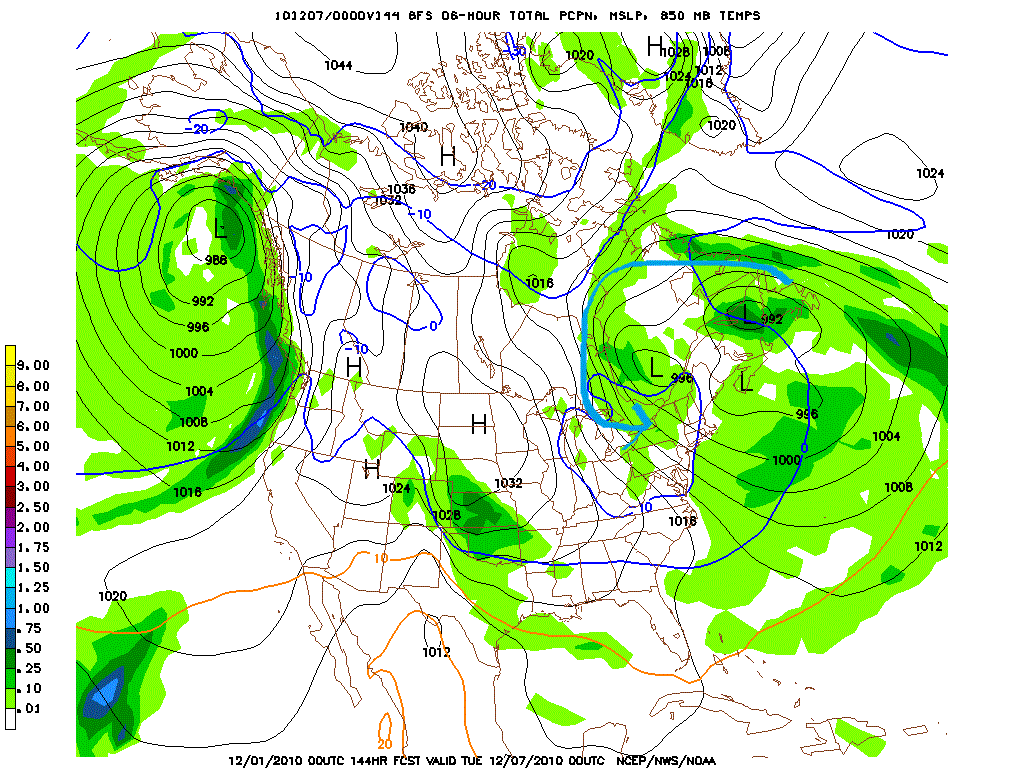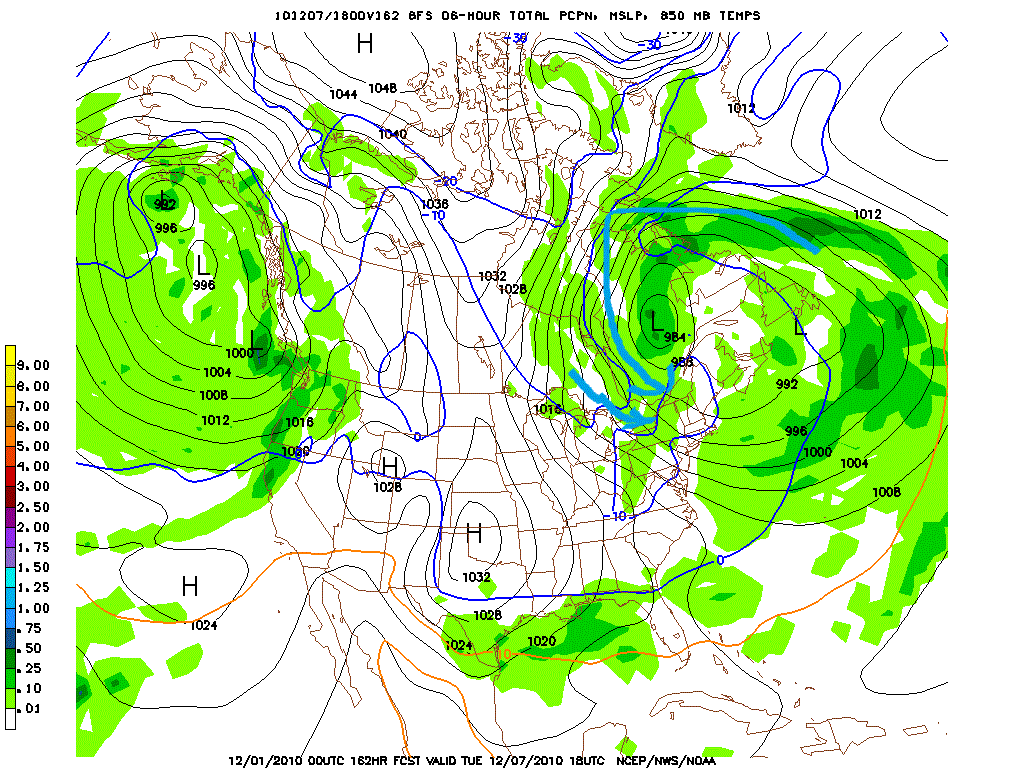 Not until the latter half of next week does the system begin to weaken and pieces break off towards the east.
This pattern certainly favors upslope snow across the Greens and ADK. A few extremely important ( and positive) things to note. First temps at the 850MB level look to be around -10c which is great for dendrite growth of snowflakes during upslope periods. Secondly, low level RH values look VERY high throughout the period: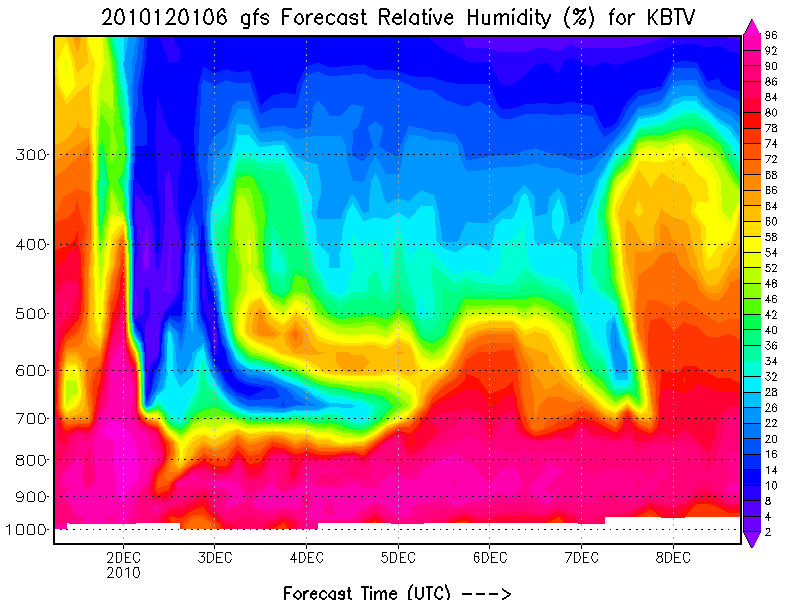 This is important to get any uplifted air to precipitate snow. If it ain't near saturation at lower levels it will not need to lose moisture as it cools during ascent.
Lastly the models are strongly hinting at some lower level UVV (seen via Omega) during the latter part of this period. For models to be picking up on the lower level vertical motion this soon is a good sign.


Clearly the computers agree that an upslope event is within reason. Yay. Now it's far too soon to tell what accums are in order but if these past experiences tell us anything, its prob. going to be better than rain.
UPDATE UPDATE UPDATE
I think the signals keep getting stronger that a significant and prolonged upslope snow event will affect Northern VT.  beginning this weekend and running until next weekend, northern VT – Jay, Manny, Smuggs and whatever else is up there will see periods of steady and sustained snow showers.  Above 2500/3000 ft the total weekly accums will put some really big smiles on your faces.  Something in the 12-24 inch range is certainly possible.  We have to watch how this develops because these events are finicky but it sure seems to all be coming together.
Now one odd area to forecast will be the ADK.  Model output isn't too bullish on total QPF for this region however its going to be hard for parts of the High Peaks to not get into the action.  With retrograding storms, parked upper level lows and a constant stream of lake effect from Ontario heading towards the NE I don't see how the High Peaks don't see periods of very nice snowfall.  
 You know what else is better than rain? The 2011 FIS Wall Calendar: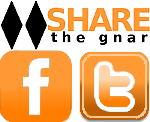 Tags:
adirondacks ski weather
,
ADK
,
dacks
,
Lake Effect Snow
,
Lionel Hutz Weather
,
lionelhutz ski weather
,
Magic Snow
,
Ski Weather
,
Upslope snow
,
Vermont Powder
,
Vermont Ski Weather
,
Vermont Upslope Snow
,
winter is coming
18 Comments
Please consider visiting our sponsors.
Leave a Reply