November 9, 2010 12:29 pm | Category:
Skiing
Not the kind where you stick your hand into a hole and pull out a catfish!  The kind where you make early season "noodle" turns so you make good and sure you don't hit any buried treasure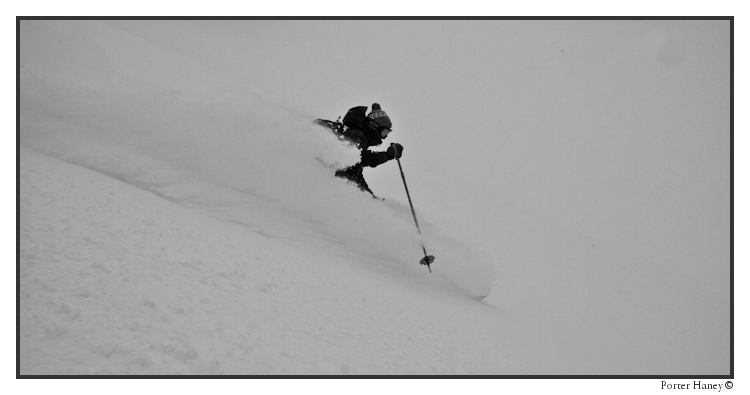 .  That's been the rule in the Wasatch to date — except for a few prime chutes that have filled in nicely — these are ready for "real" schuss.
Word on the interwebz was more snow was headed to Utah and as it so often is, the internet was right.  L_H nailed this forecast — he called for 25-50 CM, and our observations put it at a forecast splitting 37.5 cms!?!?!  Either way, it was enough to fluff into your face and billow through you under arms.
Allison dug a pit and noted "at the top of Collins, NW aspect. About 80-85 cm total snow depth. 35 cm of new snow, 25 cm of rounds from the last storm, below that is a crust and below that is maybe 7cm of junky stuff."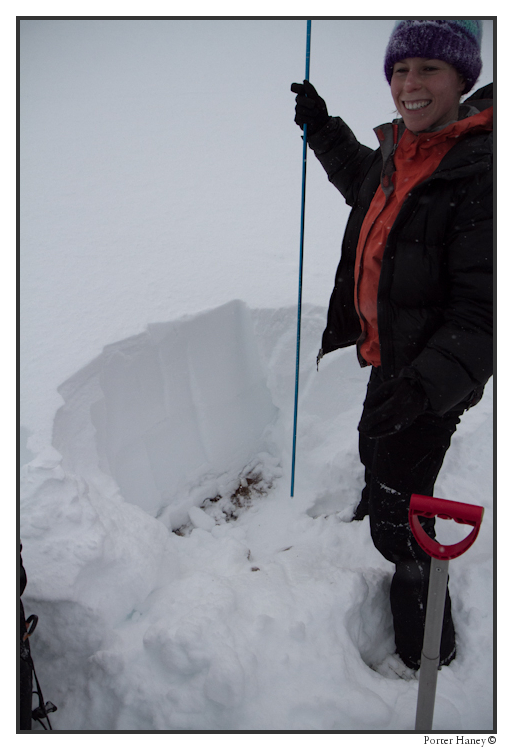 A few layers of graupel existed in the pack,  but those layers made for excellent schuss.  Skis floated on this supportive layer insuring that we wouldn't hit an stumps.
The wind was whipping making for some ferocious conditions.  In fact, it was so heinous Mr. Gilmore could only keep one eye open at a time.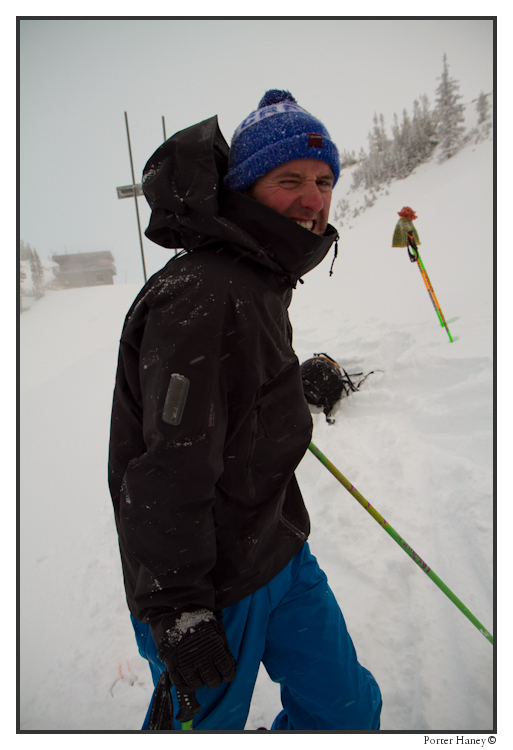 Eventually he put his goggles on, peeled his skins, and reminded us all of why we continuouslly wake up at 4 AM to run out for some laps before work.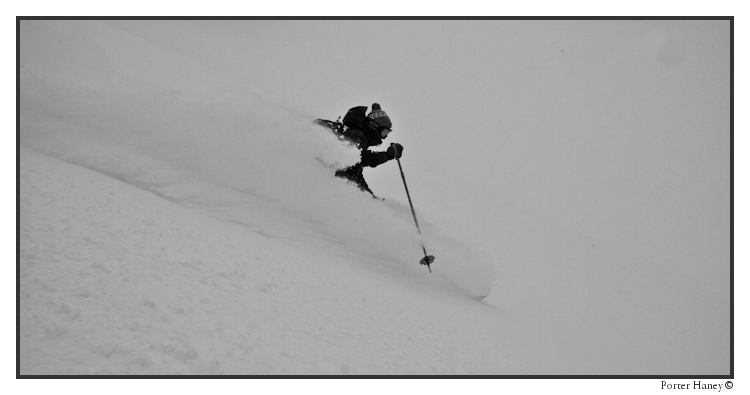 Allison schussed second, and in the pre-dawn light let out some delight powder whoops and ahhhs.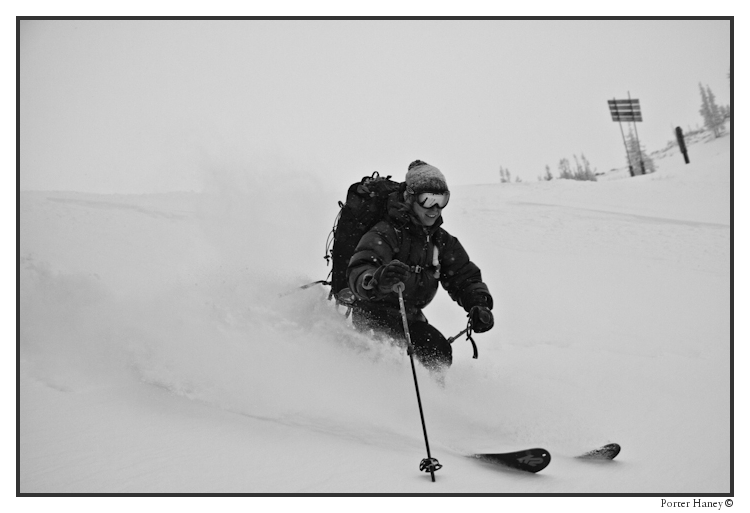 Lap one complete, and our clocks are all telling us to get back to the office, pronto.  For work awaits.  We all look at each other and decide, the hell with it, and stick the skins right back on.
Turns out we made the exact right decisions.  Allison opens up her off piste skiing for the year with an upper elevation forest run.
The minute Colby polled off he knew he'd done the right thing too.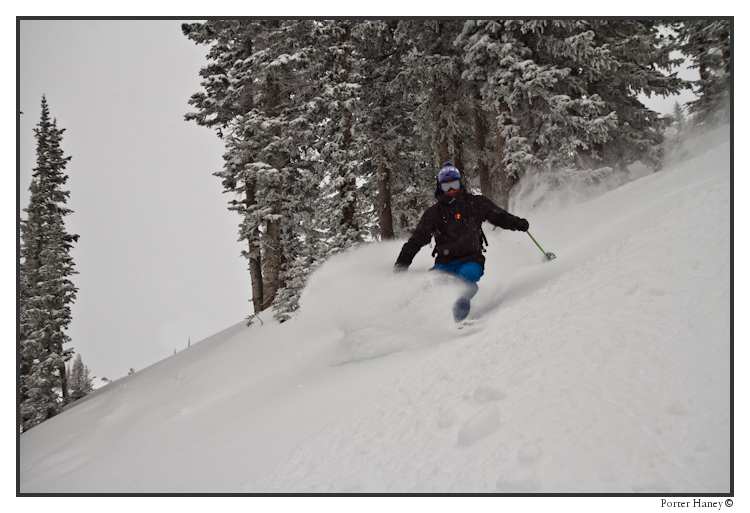 AND THEN, Colby exclaimed, "The hell with NOODLING, I'm turn the jets on!"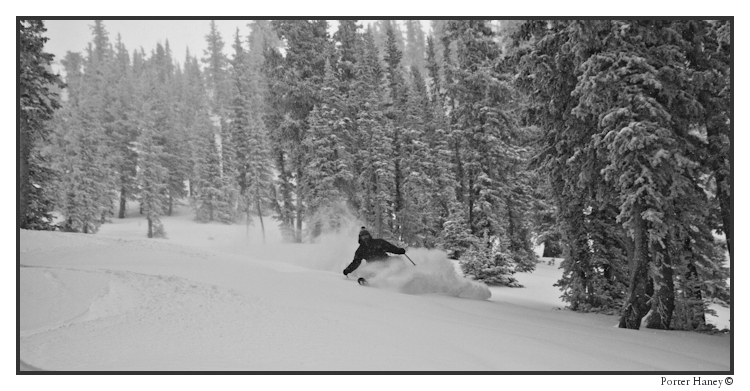 And he did,  powder cloud after lovely powder cloud.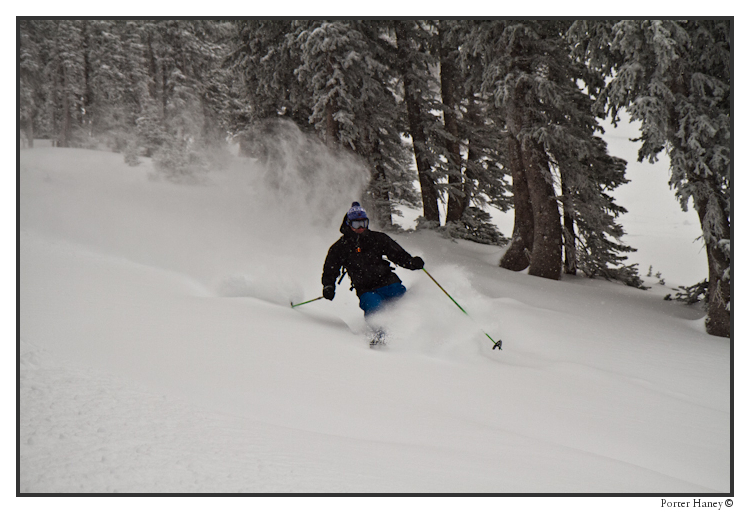 As we sleuthed out of LCC towards the factory floor we spied some sunshine — one of these days we'll be reporting back with more than the dark shots.

Add some fuel to our fire  by purchasing a lovely calendar.  Get 'em while they're hot.
Not to be out done, G, K_C, and Ben have been sharpening their edges on the spine of the greens — see K_C turn into an angle (just for a little bit).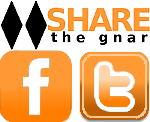 Tags:
november powder skiing
,
Porter Haney skiing
,
porter skiing
,
Utah
,
utah powder skiing
6 Comments
Please consider visiting our sponsors.
Leave a Reply