Last week featured an epic high pressure system that hung over the (hungover?) north-east for days on end. Needless to say, in such a weather pattern, the chances of powder snow are slim-to-none. The FIS Eastern Bureau made the best of the situation though (whilst reading and drooling over the Western Bureau's missives) by catching as many sunrises-from-mountain-tops-and-then-schussing-down-in-time-for-work as possible. Here they are (in order of appearance) with brief commentary.
Sunrise one saw us cruising on an inch of snow overtop some rock-hard manmade snow.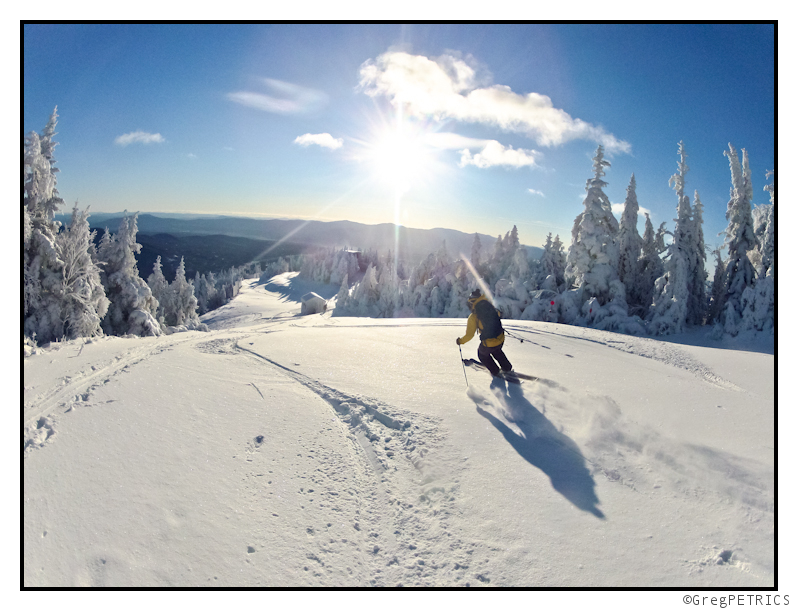 Sunrise two featured ROCK HARD snow after a warmup wiped out the aforementioned natural snow, and then was followed by a chilly night crisping up everything in sight. This is probably about as close to skiing on a corral reef as we'll ever get!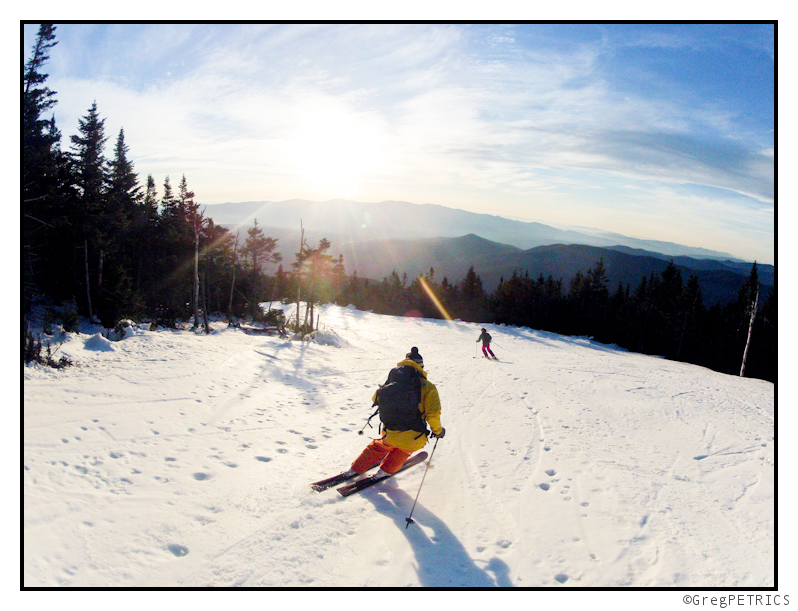 Sunrise three wasn't really much of a sunrise at all. A very weak disturbance swept through embedded in the high pressure system, scouring out the warm air (noted in sunrise two), and dumped a ultra-thin veneer of pow for us to enjoy. (Hint: there's a short video of this day for your enjoyment here)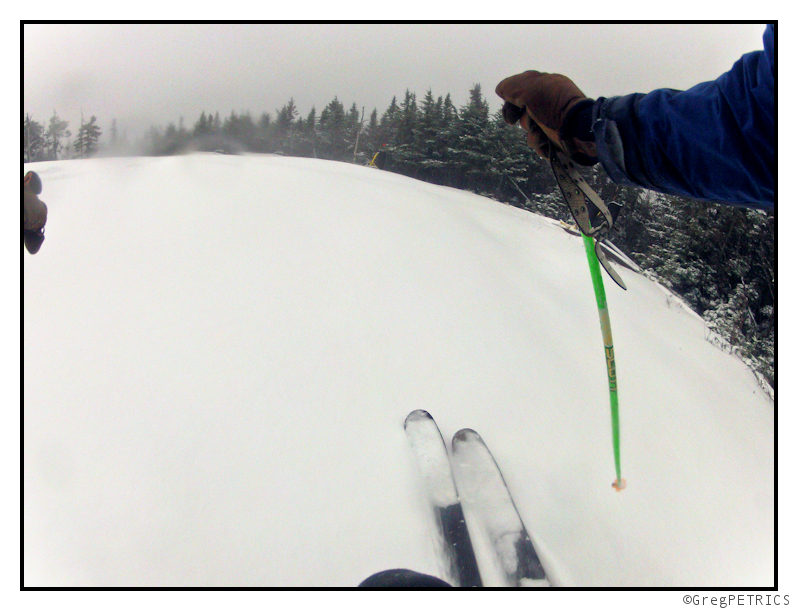 Sunrise four was cold and clear. With snow guns going, this was pretty fun. Storm skiing under azure skies? Wild.

Sunrise five featured simply perfect corduroy. I know, I know, I know. It's lame to talk about perfect corduroy on a skiing blog. Before you slap my wrist though, just hold your tongue until you and I get up early one day, earn some turns on perfectly groomed packed-powder, and hoot-and-holler all the way to the bottom. When we get to the bottom, and only when we get to the bottom, will I allow you to slap my wrist. We'll see if you can wipe the sh*t-eating grin off your face and do it. We'll just see.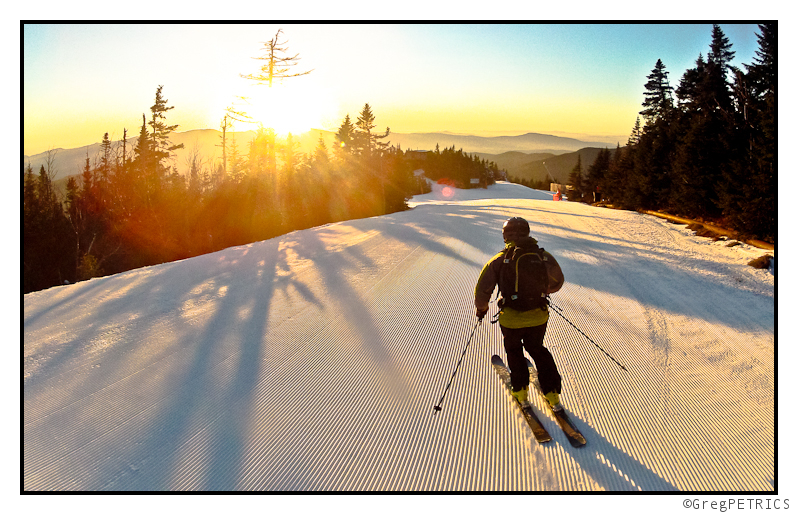 Sunrise six was yet another morning for—"gulp"—perfect corduroy.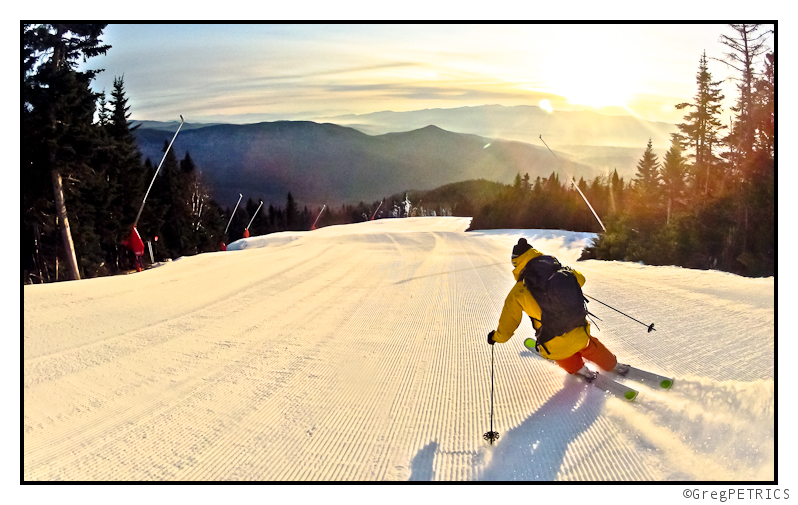 And finally, we come to the last of our several sunrises, sunrise SEVEN. There actually were a few more sunrises between sunrise one and seven that are undocumented in this post, but I am only including seven because it honestly bugs me that the word several doesn't mean seven, and so I'm on a personal quest to limit the use of the word "several" to mean seven. Of course I'll fail and contradict myself some day, but that's another matter. In any case sunrise seven was our return to true winter around here. Several inches fell when the forecast orographically enhanced trough swung over head, and dropped up to 5 inches (not 7 though…damn it!) along the Green Mountain spine. It felt good to get back to winter. Now let's have some more on the east coast!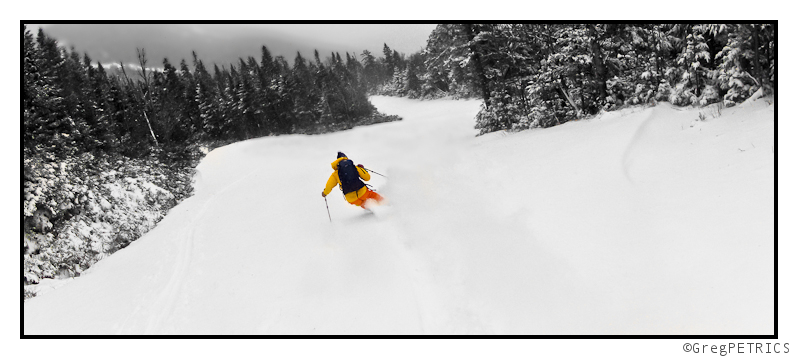 Hope you enjoyed the sunny weather of November. See you on the hill as we see what the end of the month (and December) have in store. For now though, I'm out to catch a sunrise!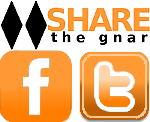 Tags:
East Coast
,
Sunrise Skiing Photos
,
Vermont
8 Comments
Please consider visiting our sponsors.
Leave a Reply