July 29, 2010 11:49 am | Category:
Weather
As the calendar turns to August, I start looking ahead to next winter. As G so wonderfully put it, the "turn" is a moment in the year when every skier should get excited. At the turn, I start to dream about powder sloughing off the thighs of my ski pants as I drop my knee and float into the apex of the turn. I start to think about the awesomeness that is the combo of a warm fire and cold beer after a day spent out in the snow. But most of all, I start thinking about the feeling of perking up in my chair and leaning into my computer, full with anticipation, as a weather model starts to whisper in my ear rumors of a storm.
While I'm going to put out a more in-depth winter prediction sometime in late August, I figure I'd share a few thoughts and considerations right now in honor of G's article.
First and foremost you are not going to have a repeat of last years blockbuster I-95 winter. Just cross that off right now. The ENSO state is no longer in the El-Nino phase. In fact, in a very short period it flopped to a moderate Nina phase. Only a few times in the last century has the ENSO state flipped so rapidly. Most notably was in the spring of 1998. However that event isn't a perfect analog because of the clear differences in the location of the SST anomaly. Where the core anomaly is located (referred to sometimes as west or east based) matters in what type of event we are going to see. Also, the PDO regime is now different than it was in 1998 and the 1998-99 winter. Regardless that still remains an analog year. (You should, before you proceed, read my take on analogs)
As mentioned the developing Nina appears at this point to be west based (lots of debate on where this is going). Some recent west based nina years are 07-08, 99-00, 88-89 and 75-76. Again, there are differences but these years have to be considered.
We have also seen a smokin' hot summer. Similarly hot summers on the east coast were: 1994, 1993, 1995, 1999 and 1988.
With the overlap of all these, at this point its wise to look at the winters of 88-89, 94-95, 95-96, 96-97, 98-99, 99-00 and 07-8.
At Mt. Mansfield it appears that overall these winters have been good.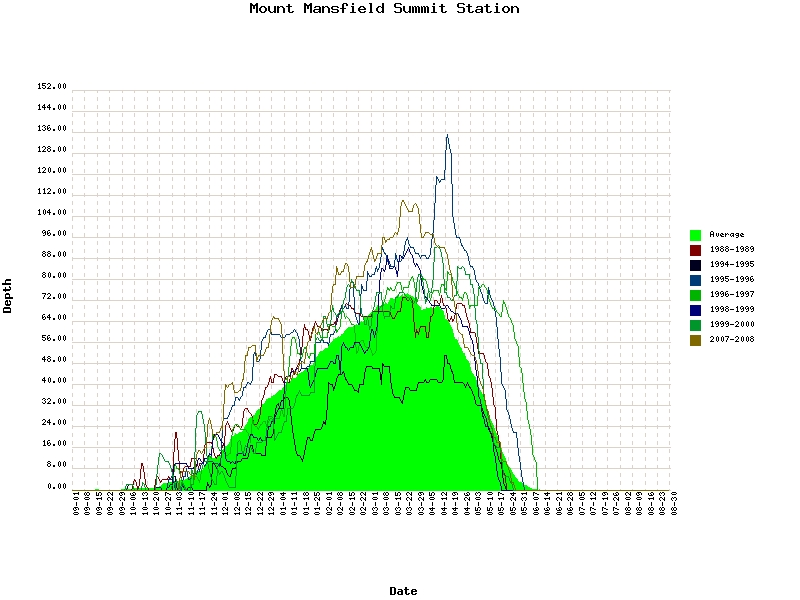 While there are noticeable exceptions, the trend is for above average snowfall. Importantly, if you look at the data for these winters outside of the North Country, the story is different. Average to below average snowfall was the rule and few of these winters are remembered that fondly towards the coast (95-96 being an exception).
What makes for this difference? I have a theory that I'm working on but basically, it adds the following factors up: warm great lakes, northerly storm track, and not a lot of blocking.
So what to make of the up coming winter from all this? Right now I'd say look for slightly above average snowfall along the northern greens with intrusions of warm air and messy systems. Lake effect could be pronounced.
Anywho, on to the weather for the weekend.
SYNOPSIS:
A very refreshing weekend is on tap for much of the north country.
A front pushes south through the region today, setting off a few showers and thunderstorms will usher in change in the weather.
Behind the front a cool high looks to build into the region. Starting on friday, this high pressure system will bring generally sunny skies and slightly below seasonal norm temps to the region. On saturday, more sun and cool temps will make you yearn for the days of fall. The high will degrade a bit on Sunday and bring a cool and showery day to much of the north east.
The big news this weekend however will be the temps friday and saturday night. With clear skies and dry, cool high pressure in place there exists the potential for some of the cooler locales (I'm looking at you KSLK) to dip down into the 30s overnight. OH GOD DOES THAT SOUND GOOD.
FRIDAY:
Primary Concerns: Lingering clouds with a ceiling of only 3k as the high builds in above.
Best Location: North. Still might be a bit warm in southern portions (PA and so. NY state)
Best Activity: ANY. Going to be a great day to be outside.
Recreational Forecast:
In the wake of the frontal boundary, a high pressure will build in on friday. With it will come low dew points, clearing skies with a few patchy clouds and temps in the low 70s. Really that's it. That's the forecast. Can you ask for more? Heck no. Go outside.
SATURDAY:
Primary Concern: Being COLD in the morning!
Best Areas: Anywhere. Frontal boundary should be well south of the region. Only a few shore points might have to deal with clouds.
Best Activity: A fun one.
RECREATIONAL FORECAST:
First and foremost saturday has the potential to dawn cool. the Latest GFS MOS (MAV) and NAM MOS (MAV) guidance has Mt. Wash. and SLK dipping into the 30's friday night and Btv dipping into the low 50s. If we get sustained clear skies, the light winds and relatively low moisture in the air will make this VERY possible.
Awesome. (Of course Sam and Allen prob. aren't that excited. This would not be news to them.)
Aside from some light fog/dew/mist possible in the early morning of saturday that might take a moment to burn off, saturday will be perhaps the best day of the summer so far. Temps will be in the low 70s. The sun will be out and dew points will be fall like. So go outside. Again.
SUNDAY:
Primary Concern: Showers becoming widespread in the afternoon.
Best Areas: East.
RECREATIONAL FORECAST:
Sunday will start out similarly cool. The same combination of high pressure, clear night sky and humidity should allow temps to fall sharply again Sunday morning.
While they will rebound in the morning, an approaching system and the degrading high pressure will work to make Sunday less awesome than saturday. As a system moves in from the west, it should bring some clouds and showers in the afternoon. While clouds may overspread the region my midday I think the showers hold off until later in the afternoon. Further east, you may escape scott free. I'll monitor this and update you. Hard to get a handle on these weak systems in the summer.
Extended outlook
Showery but not bad Monday and Tuesday. Really depends on how the front from Sunday plays out.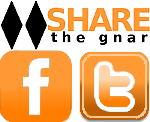 Tags:
lionelhutz
,
summer series
,
Vermont
,
Weather
6 Comments
Please consider visiting our sponsors.
Leave a Reply