Unofficial Opening Weekend at Stowe
November 30, 2009
A little over 2 weeks ago, Lionel posted this in his blog: "Timing-wise I've basically plotted turkey day as a pattern shift day and these models agree that sometime soon we'll see a shift to a colder pattern." He then spotted a fairly substantial upslope event being signaled in the models and wrote about it in this post a few days later. Our resident expert of upslope events, Scott Braaten concured with Lionel's judgement, and after watching the signal mature, decided that something was seriously brewing. He played it cool for a little bit, and then in the last few moments before the storm, he called it: "Northern Greens including Jay Peak, Smuggs, Stowe, Bolton… 12-24" above 2,000ft…4-12" from 1,000ft-2,000ft." Meanwhile Lionel kept updating us as to the latest goings on as the forecast became a "nowcast", and urged everyone to get ready to follow the weather action as it rolled into town on the weather dashboard.
The peanut gallery had it's doubts, and even our own team thought that perhaps we had gone too big… Were we all seeing the GFS, ECWF and EURO models through rose coloured lenses just because we had suffered through one of the worst November's on record? Or were we a credible weather and ski team helping everyone get the information they need to find the snow they want?
Short answer:

[youtube]emUVrkBMcvI[/youtube]
Long answer:
On Saturday morning, after following this storm for over a week, we got to the upper gondola lot at Stowe Mountain Resort at about 545 am to find 4″ of wet slush soaking my shoes and a stiff north wind whipping the premises. Boots on 555am, big rain drops falling with a few flakes. Is this worth it? Sit in car eat hard boiled egg or two and finish coffee. Another big wind rocks the car and splashes the windshield. We're here… let's do this… LEROY JENKINS! Let's unofficially open Stowe Mountain Resort a week ahead of schedule!
620am: about 600 feet up Nosedive trail temperature is noticeably cooler, and the slush turns to dry wind affected snow. I am pushing in with my skis about 2 inches per step now rather than digging into grass. I probe with my pole and it's at least a foot, and I haven't even reached the National/Nosedive junction. This was a good decision.
7am we meet Allen and Ben at the lowest Nosedive switchback (i.e. the intersection with Bypass trail) and help Ben find a lost ski. Sam shows up right on cue, and his buddy Dave begins the party.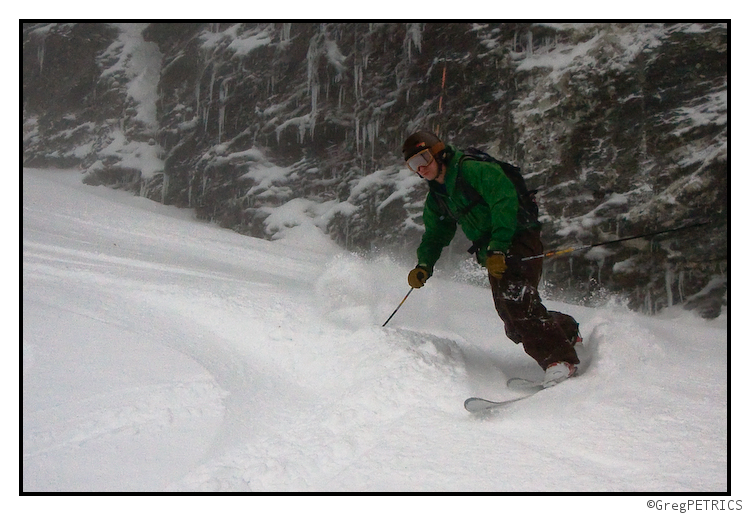 Light was low. Snow was deep. Pole probes went to the upper shaft of my flicklock poles set to 135 cm. A smarter person than I could figure out what that was. I'd say between 15 and 18 inches is a good overall estimate for above 3000 feet. Pockets of 20+ inches no doubt existed. The winds were so high though, it was hard to tell if we were just skiing drift in, or actual snow fall. The stake will clue us all in no doubt tonight. Bottom line though: everything was buried and life was good. Sam: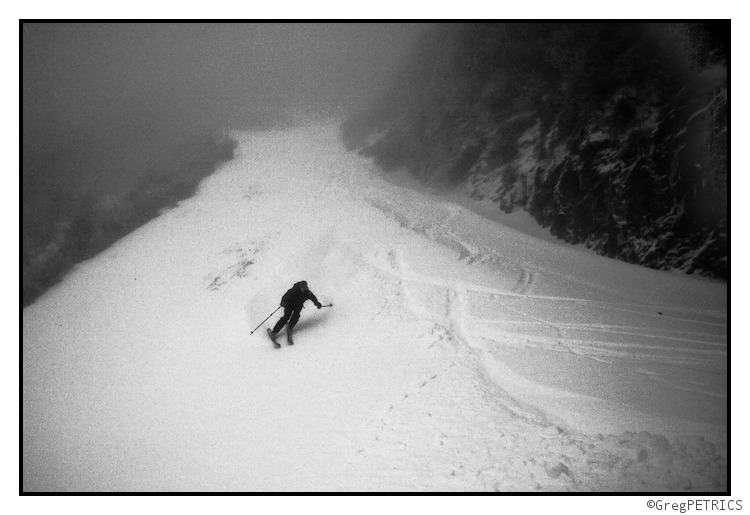 We descended a bit, and then made our way to the Gondola side of Stowe. Ben and I ran up top and skied all of Chin Clip while wires were crossed, and every one else did a Switchback descent and then an ascent to the second Chin Clip exit. Red jackets and Kinco Gloves are huge this year…. dorks….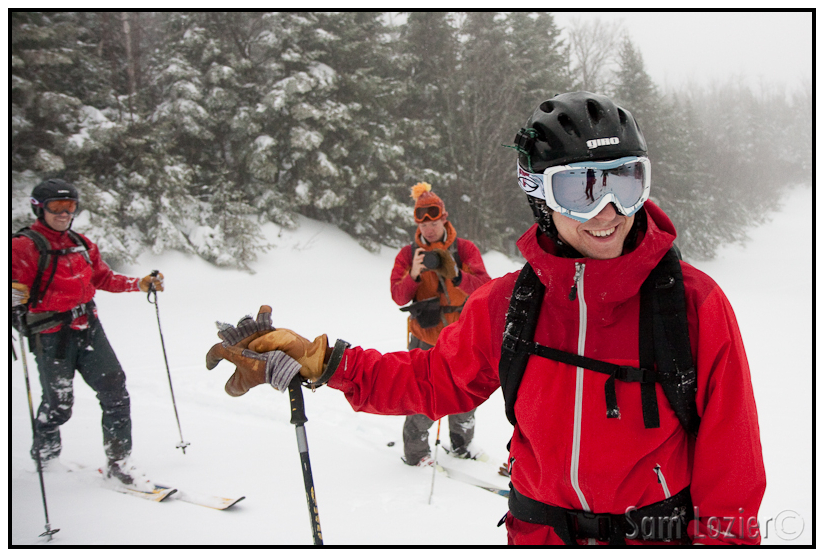 Ben on Chin Clip: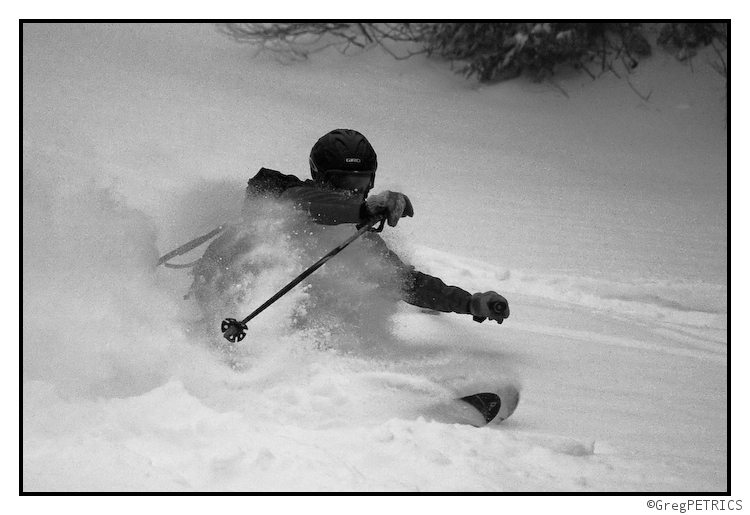 ---
Read about the author:
Greg
---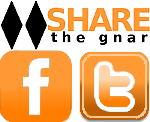 31 Comments
Please consider visiting our sponsors.
Leave a Reply