February 16, 2011 12:00 pm | Category:
Weather
Wed. Evening Update:
As advertised, the winds are howling in the mountains and valleys alike, dust is widespread, the pre-frontal orographic snow has commenced, and the heavy snowfall is on the doorstep. The cold front is expected to crash into the Wasatch Mountains around 7PM this evening. Thunder snow is a good possibility. A foot of new in upper Little/Big Cottonwood Canyons by morning still looks likely. Wax them boards  (and you might want to have a plan B in case LCC is closed)!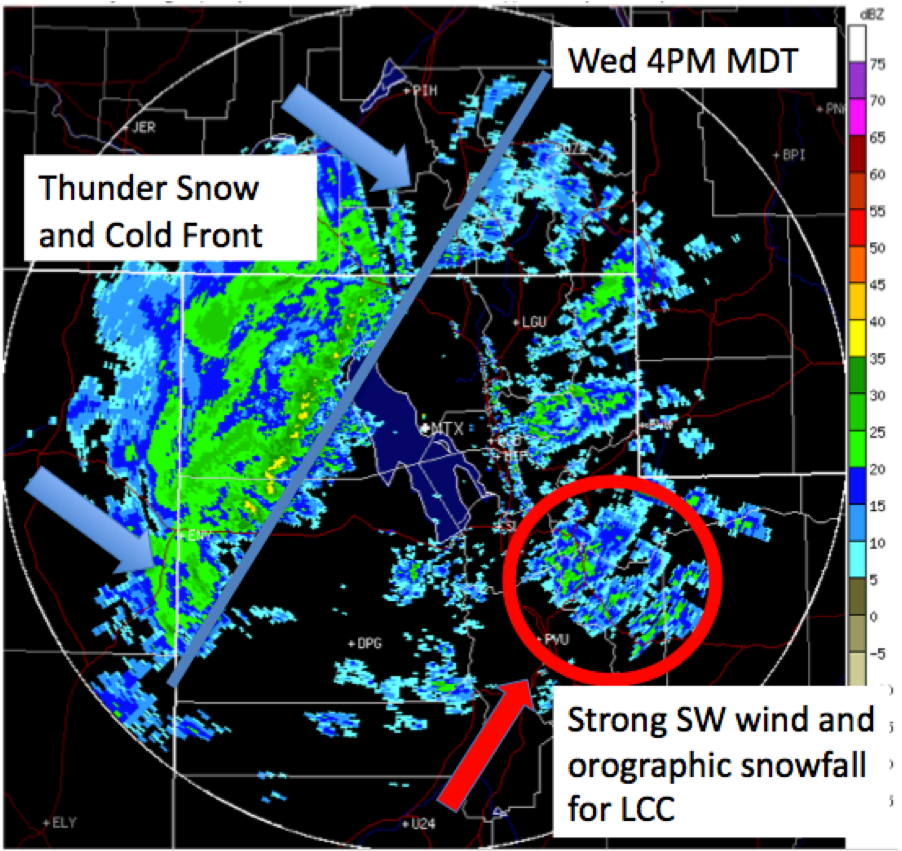 Monday Update:
Pattern Change Underway.
As expected there is a major pattern change underway with a very intense trough now in place over the eastern Pacific. As this system slowly works inland an intense cold front will develop across Nevada on Wednesday which will then slam through Utah with heavy snow and strong winds sometime Wednesday night.  Prior to the arrival of the cold front winds will be the big story with sustained SW winds around 60 mph at mountain top level (10,000-11,000 ft) with considerably higher gusts possible.  As is often the case this time of year, blowing dust will be likely which might add our first dingy layer to the Wasatch snowpack… but it is also looking like a blessing in disguise as the wind should help to eradicate some of the pesky surface hoar that developed during the past week.
As far as snowfall it is looking like a solid foot of snow is likely Wednesday night into Thursday morning with continued snow showers during the day Thursday. The storm will likely start out with some warmer and wetter snow mixed with periods of graupel. As the colder air works in on Thursday snow densities look to improve with continued snow showers hopefully adding a topping of fluff (maybe another 3-6") over a nice new base. Bottom line: if you're going to call in sick one day this week, I'd probably make it Thursday.
Here's a little graphic to illustrate the pattern for the storm Wed. into Thursday.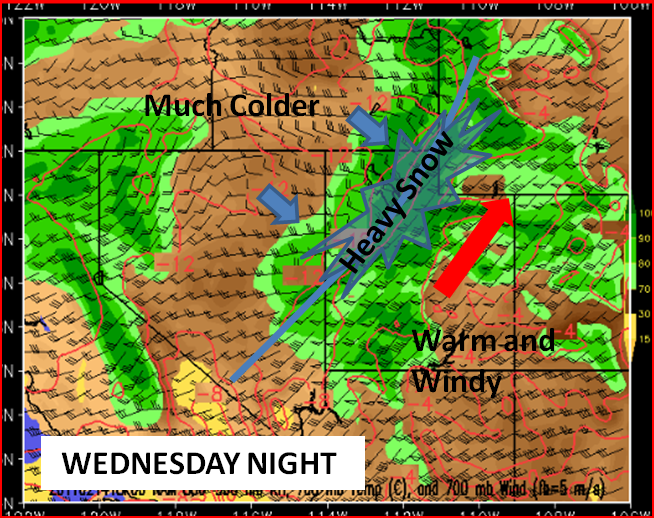 And the really good news is that the pattern change looks to linger with another more southern storm likely for Sat/Sunday and a potent and cold system possible on Monday.  We'll address those at that time.  Yay snow.
Original Post:
Last week we documented the return of winter.  That seems to have worked out pretty well. However, we're still d
ealing with a large scale pattern that's really not conducive to the big UT dumps all ya'll are used to.  Not that skiing's been bad over the last three weeks, it's just not been quite like this. Well looking at some of the long range models, it looks like that could change in a few days.
To discuss this further I'm bringing in a friend of FamousInternetSkiers, and new weather contributor, Neil Lareau.  Neil and I met recently while negotiating the purchase of yellow cake uranium in the Wildcat parking lot. Neil's a great guy and one smart weather dude.  I hope to bring him in regularly and hopefully you enjoy his work.  I do.
So without further delay, here is Neil:
Right now:
Utah finally feels a bit more like Utah… no not multiple wives, multiple feet of good snow. Specifically, 16" of right side up Wasatch goodness which is going a long way towards covering the memory (and the physical reality) of the MLK rain/rime/surface hoar fiasco (although the avy savvy will not forget that it is down there).
Changes to come:
Large-scale waves in the atmosphere, which define the pattern of the jet stream, tend to steer smaller scale waves, or storms, which are responsible for most of our snow. Thus far January and early February have been dominated by a ridge, or northward deviation in the jet stream, centered over the west coast with a major trough across much of the east. The clockwise flow of air within the western ridge has favored a storm track that shunted most of the Pacific moisture and cyclones north into Alaska and British Columbia. Meanwhile, Utah was left with moisture-starved systems that were able to arc up and over the ridge and then down the continental divide.  A few of these systems were stronger than others and managed to keep us sane during the past month (it is Utah after all… it always finds a way to snow here).
However the forecast models are now suggesting a major shift in this pattern with the ridge breaking down and being replaced by a large-scale trough over the eastern Pacific and then slowly moving inland through the great basin sometime around Feb 15. Since I'm working with Lionel, the master of MS paint, I've worked one up below to illustrate my point.
If this pattern change holds true we'll see a massive influx of water vapor coupled with a succession of storms. The great thing about Utah is that even before the big storms get here the combination of steep mountains and lots of water vapor streaming into the region usually gets our good friend "orographic lift" all hot and bothered… 'oro'-genous if you will. So this pattern shift could bring a significant increase in snowpack to Utah, starting out with relatively warm, wet, dense orographic snowfall followed by cold lower density snow. Sounds like a good recipe to me.
Of course all of this is a long way off in 'model land' and we'll have to watch how reality shapes up during the coming week.
In the mean time get out there and enjoy the flip side of the Utah weather coin, a week of bluebird skies and comfortable mountain temperatures; perfect conditions to lay waste to the settled powder in the deeper reaches of the Wasatch backcountry.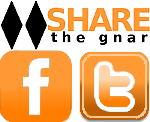 Tags:
alta forecast
,
Lionel Hutz Weather
,
lionelhutz ski forecast
,
lionelhutz ski weather
,
Neil Lareau
,
Pattern Change
,
powder forecast
,
ski forecast
,
Ski Weather
,
Snowbord forecast
,
Utah
,
Utah Ski Forecast
,
Wasatch Mountains
10 Comments
Please consider visiting our sponsors.
Leave a Reply