Gear Reviews
on
F.I.S.
are from the heart. We go through a lot of gear here, and figure some of you might like to know how it holds up. Look for reviews on items both directly and indirectly related to skiing and mountain adventure. Use our reviews to find out what works, what doesn't, and what you didn't even know you
need
. Got an idea for a review?
Contact us
!
After a week that featured our first schuss of the season (and second and third), we now continue our Famous Internet Gear Guide series!
But before we do, I have to warn you that you will need to insert your own Star Wars-related punch lines. I want to, but I can't. I must confess I have never seen a single Star Wars movie. Ever. None of them. I get the context of a lot of the jokes. I know the story line. I love every minute of Spaceballs (I actually even own that). But I've never seen Star Wars. A rainy day will come where I break this streak, but so far every rainy day at my house that I plan to watch Star Wars, it's been snowy up on the mountain. What are you gonna do? (hint: it involves strapping skis to your feet)
Indeed, as you have probably guessed by now: I spend most of the time I should be watching Star Wars skiing, or thinking about skiing. Or writing about ski gear for a blog (time to rethink who the nerd is here). So without further adieu I present,
"My time spent not watching Star Wars: The 2012-2013 Dynafit Vulcan"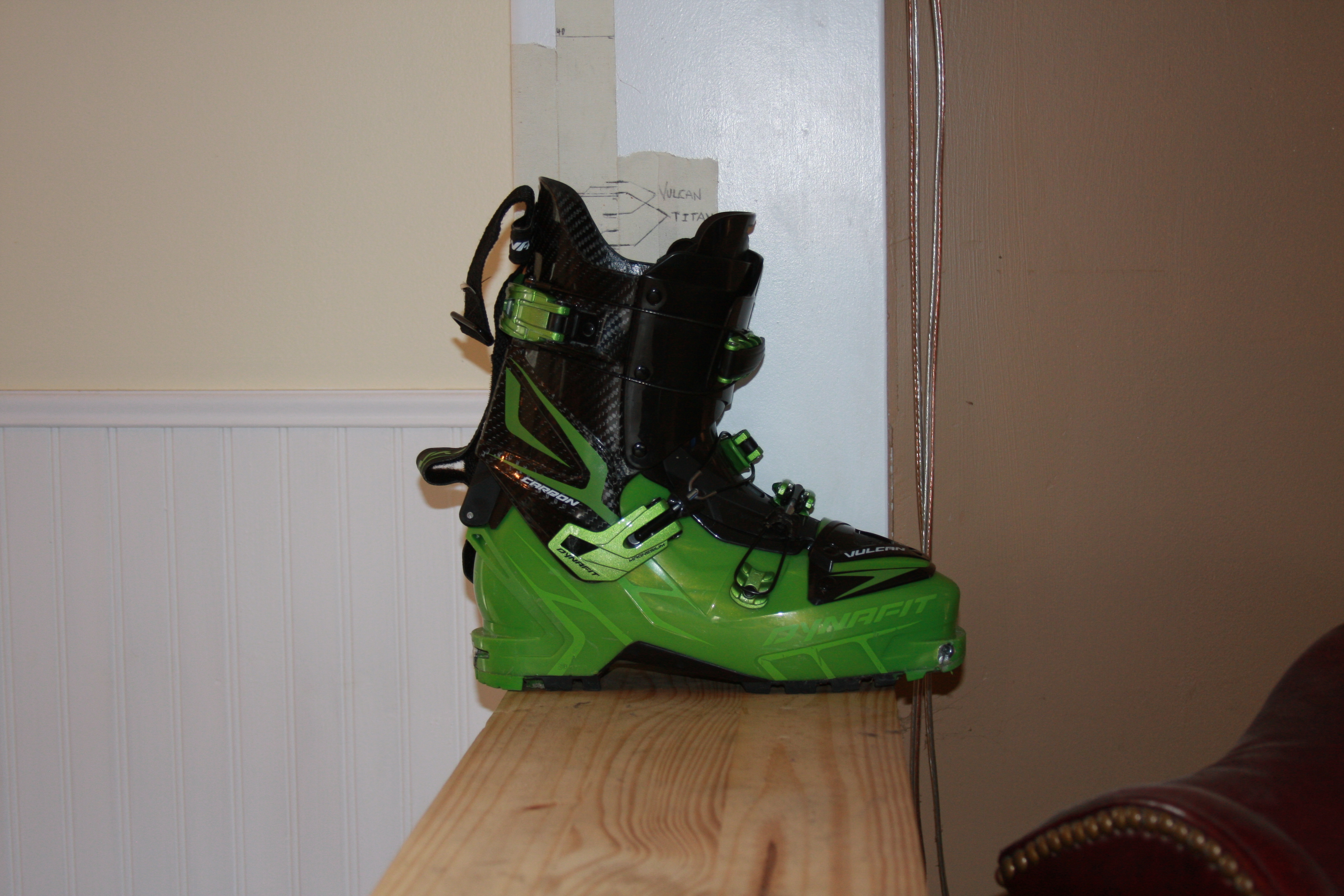 I had the honor to spend a chunk of time with the highly touted so-called "Hoji boot" from Dynafit; formally known as the Vulcan. This boot sits atop the new line of Freeride/touring boot options from Dynafit. It's a boot that's not to be taken lightly. Except uphill. (audience laugh-light comes on)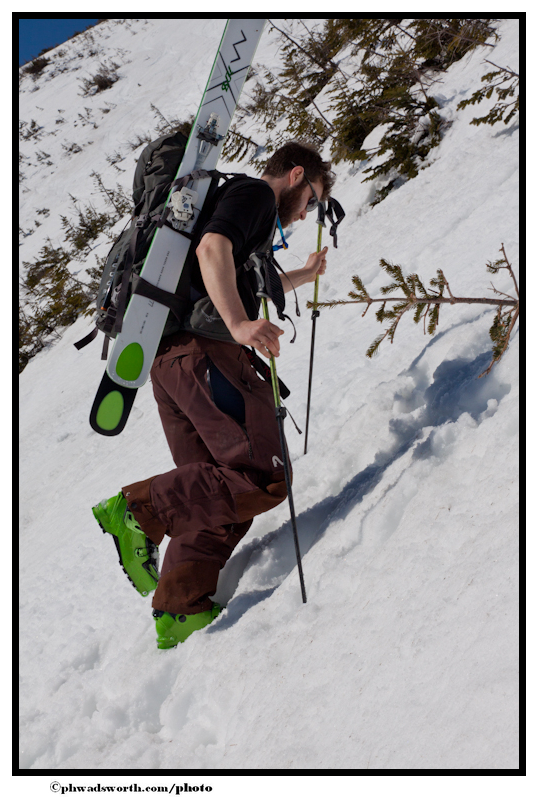 (laugh-light goes off) Somehow I got a pair of Vulcans for 25 days of skiing. Everything from late season groomers at Smuggs, 70 deg corn harvests on Mt. Washington, and at least a dozen days of pow and corn scraps in the San Juan Mountains of SW Colorado. I felt especially lucky to have this privilege as pre-production samples of this boot were few and far between stateside this past Spring.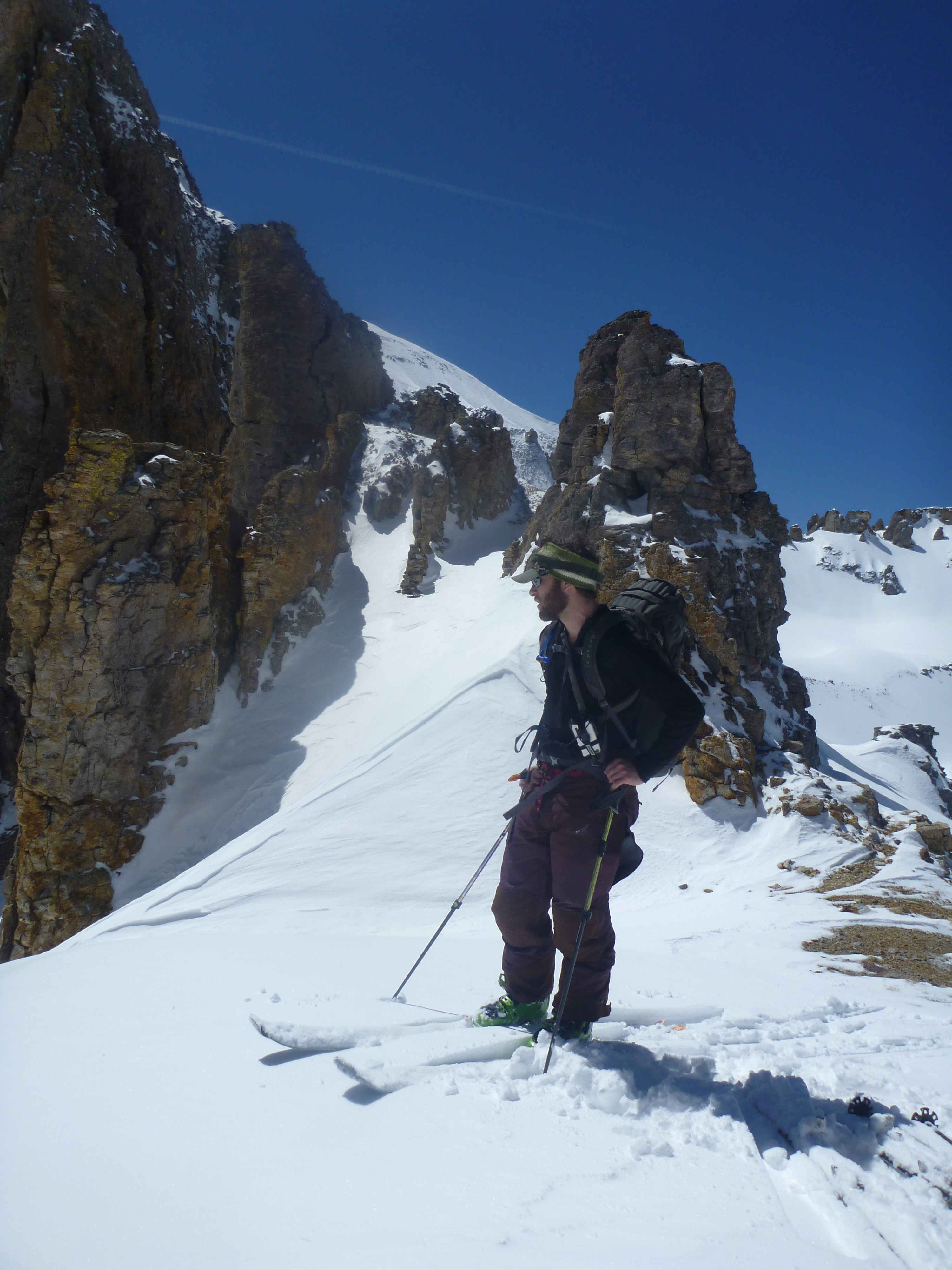 The Vulcan has it's origins in the gamechanging TLT 5, the boot made by Dynafit that pro skier Eric "Hoji" Hjorliefson famously modified with a number of other parts to make his own dream boot. The Vulcan is the refined version of what Hjorliefson created coupled with the impressive design and engineering of Dynafit's development team in Germany and Italy.
This here Vulcan is not your older brother's three buckle AT boot. A Grilamid lower, the same proprietary plastic used in the TLT 5 known for it's impressive stiffness-to-weight ratio, and a full carbon cuff, combine to make this quite a stiff boot.
I took the time to do some on-scale analysis of the Vulcan in comparison with my everyday BC boots, Dynafit's Titan. Like I mentioned in the last post, I don't weigh (or for that matter, even use) boots with their stock liners. I greatly prefer (and so too do several of the FIS) Intuition brand liners for a variety of reasons (perhaps more on that in a later review). Looking only at shell weight, the Vulcans come in at a super light 2.85 lbs/boot (1280g), a very significant weight loss compared to the Titan at 3.5 lbs/boot.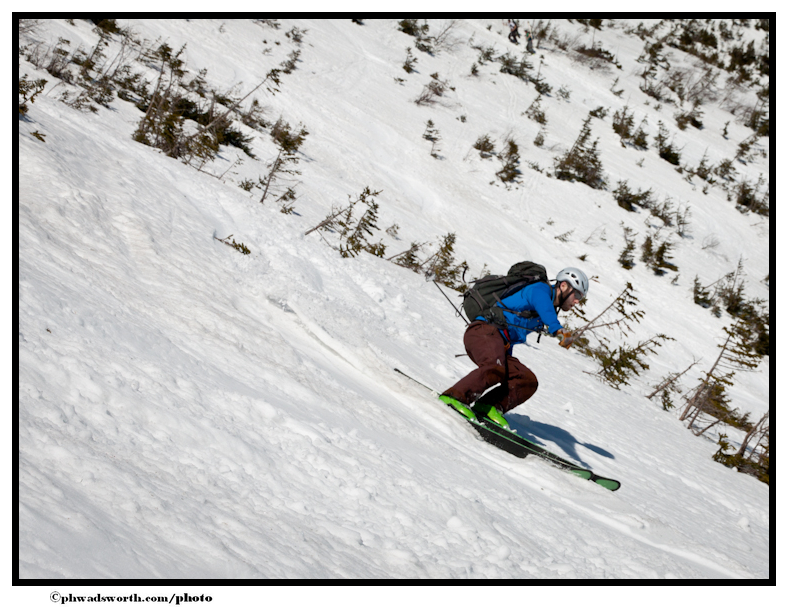 Just like the TLT 5, the Vulcan has removable tongues to be inserted on the descent which add a lot of forward flex stiffness. I took the time to ski both with the tongues and without. Skiing with tongues in provides an incredibly stiff boot all around. There is not much in the way of a "progressive" forward flex. What I mean by "progressive" is the effect of a boot shell progressing from soft to stiff as you transmit energy into the shell. The progression is beneficial (to those who like the way traditional alpine boots ski) because the the initial flex helps to absorb a lot of energy that can be driven into the legs from chopped up snow, high speed skiing, and landings. As well the progression offers a lot of rebound. When energy is driven into the shell of the boot there can be some spring-back from the boot to allow for more precise transitions between turns. Akin to weighting a ski to flatten camber, and then releasing the weight on a turn transition, the camber springs back. I will allow that the lack of "progressive" flex may just have been in my pre-production boots and the tongue composition has likely changed in the production boots. So this may have gotten straightened out.
In light of the fact that with the tongues these boots are incredibly stiff, I found that skiing without tongues was actually quite nice for most backcountry skiing. If you add in a liner with a stiffer tongue, or a wrap, you get a pretty nice "progressive" flex. I wouldn't like the tongue-less flex for all skiing. For instance, if I'm driving a stiff, cambered ski on hard snow at high speed, going tongueless would not work too well since a lot of power would need to be generated from flexing forward and laterally. But for softer snow, skis with shorter sidecut length and softer flex (think Rossi S7) the tongue-less skiing would be fine since the lateral stiffness of the carbon cuff could be almost exclusively relied upon.
The truth about the Vulcan is that there is NO boot that exists on Earth that combines light weight, stiffness, and overall touring prowess/range of motion as well as the Vulcan. Frankly, it isn't even a close competition. I found the Vulcan to be at it's best for me blasting at ludicrous speed down the hardpack groomers at Smuggs. The only reason for this was because of how responsive the boot is with such a high carbon cuff. The pure lateral power transmission is instantaneous in this boot at any speed.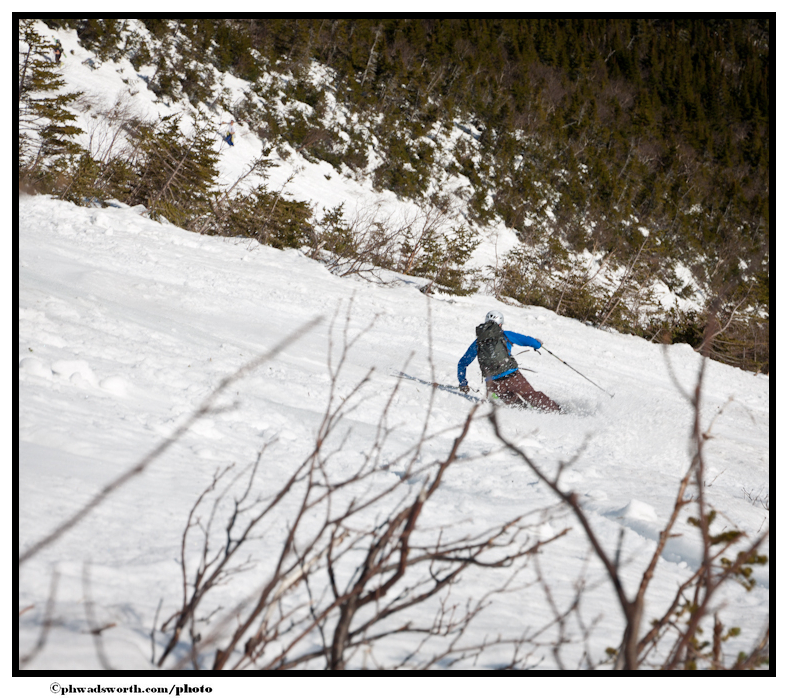 I consider myself to be a pretty good skier, but alas, I am no Hoji. And although I ski aggressively in the BC, I am not skiing 45deg pitches, strewn with cliffs, for 2500' down a face making only five turns. Thusly I don't require superhuman stiffness from my touring boot. Some people may need this, and for them I tip my cap and whole heartedly endorse the Vulcan as the new gold standard in AT boot technology. But for my needs, and the needs for the vast majority of the AT boot market the Grilamid/Pebax shell of the Dynafit Mercury (also skied, but only one day) will be way more appropriate. Plus the Vulcan is priced for the superhuman only, coming in at a round $1,000. The Mercury is certainly more palatable in the $760 neighborhood.
My issues with the Vulcan may just be personal taste, but I will speak my opinion. I do not like the new last very much. Though I can see it working well for a large segment of the skiing population, the 103mm forefoot last is too much for someone who has loved the Zzeus/Titan last (around 99+mm in the 26 shell). The boot is pretty low volume, and the heel lock down is very snug- both positives for sure. Something about a Vulcan death grip….nevermind. (laughter-light comes on and then goes off) But it took the thickness of my pre-molded Intuition liners to achieve most of the secure fit I desire, especially from the ball of the foot forward.
I have to say I am not a huge fan of the ski/walk mechanism being integrated into a buckle with no way to ski unbuckled and in ski mode. There are lots of times that I want to unbuckle and descend a runout while staying in a rigid ski mode. Mostly due to the fact that the low volume of the boot was restricting my circulation a little and the one buckle over the instep just doesn't have quite the micro-adjustment to allow a snug, but not restricting, fit. The range of motion in the Vulcan is so much that to be unbuckled means the boot has zero stability at all when trying to control a ski in any non-ascension situation. The ski/walk mechanism designed in this way is very nice in terms of simplicity. There is a lack of small parts that can break, or loosen up, in hard to access places (ala Dynafit Titan) making repair difficult. I would love to see an aftermarket machined metal piece that can be installed where the buckle tab goes that locks the boot in ski mode: Attach said dream-device with some p-cord to a small hole in the carbon shell, and away we go.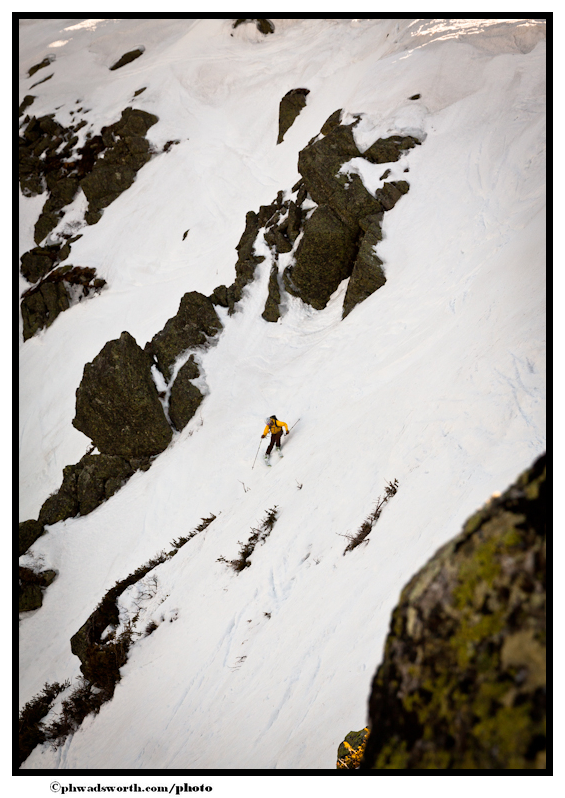 My only other complaint is the lack of an interchangeable sole block. It's noot so much that I want to ski this as a resort boot in an alpine binding (though I wouldn't hesitate to do so), but the plastic and rubber get quite chewed up when doing a lot of rock scrambling (which was every day this spring in Colorado). This is too expensive of a boot to need to completely replace it once the sole has lost integrity due to using it in a pretty normal fashion over the course of a couple hundred days. I get that putting screws in a sole increases weight and reduces performance, but this boot is light enough and high performance enough that the tradeoff is well worth the negatives.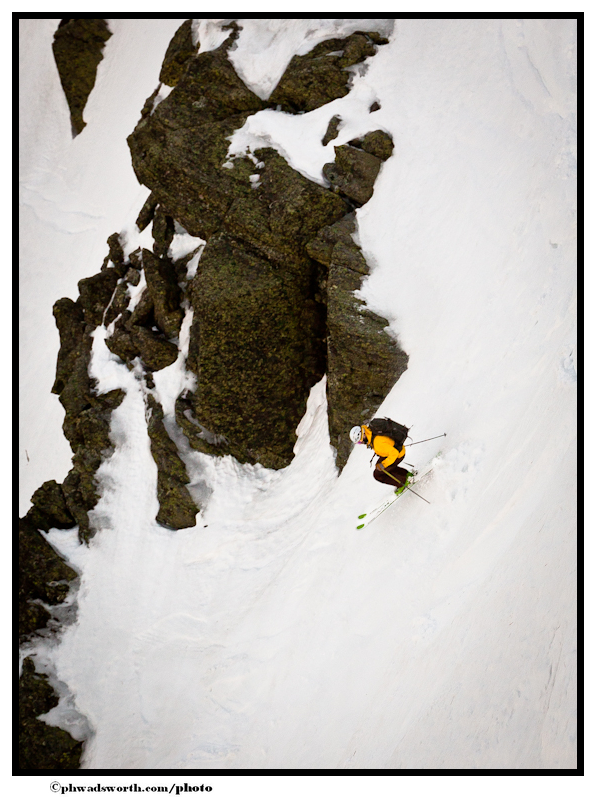 Really, everything else about the boot is quite impressive. A true masterpiece from the R&D team at Dynafit. To call this a gamechanger would be an understatement. The real question is who can afford to change the game? And once you get on board with the Vulcan can you maximize the nearly unlimited potential of this weapon? That is for you to decide!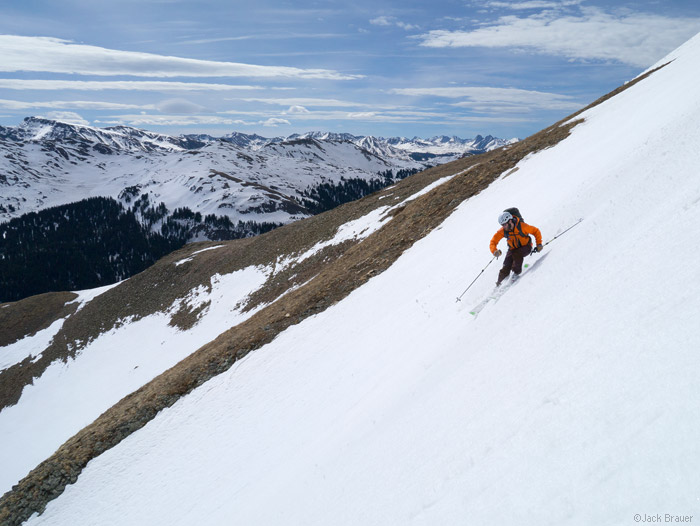 Keep checking back into FIS for more gear reviews and previews as the season goes on. But seriously; with all the breathtaking trip reports, dead-on snow forecasts, and various other miscellany, where else would you go on this here internet?! If you want to stay in touch with all winter long, Like us on Facebook!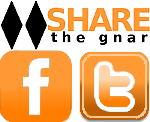 Tags:
dynafit
,
Dynafit Vulcan
,
Dynafit Vulcan Review
,
Gear review
,
Hoji boot
16 Comments
Please consider visiting our sponsors.
Leave a Reply