February 21, 2013 11:21 am | Category:
Weather
Well, another midweek comes and goes, another midweek upslope pow event comes and goes. So what's next right? Well how about some more snow? Would you all like that?
So, remember in Nemo when I talked about how two lows interacted with the final product being a super strong coastal low? Wait, no, you don't? Whatever, I remember and take my word- it happened. Well a similar situation could unfold this weekend albeit with a weaker coastal low developing.
Lets take a look at a few model solutions to see what I'm talking about.
Below is the GFS. I've annotated the two low structure I'm talking about. You can see the "northern" low deepen in the center of the country and move towards the Great Lakes. At about the time it reaches Western NY, a low from the south is developing along a cold front assocaited with the northern low. (Orange cirlce). That low then moves up the coast, deepens, and draws energy away from the northern low. The coastal low reaches the NY bight late saturday/early sunday and takes a East/Northeast track over Cape Cod on Sunday and moves out into the Gulf of Maine.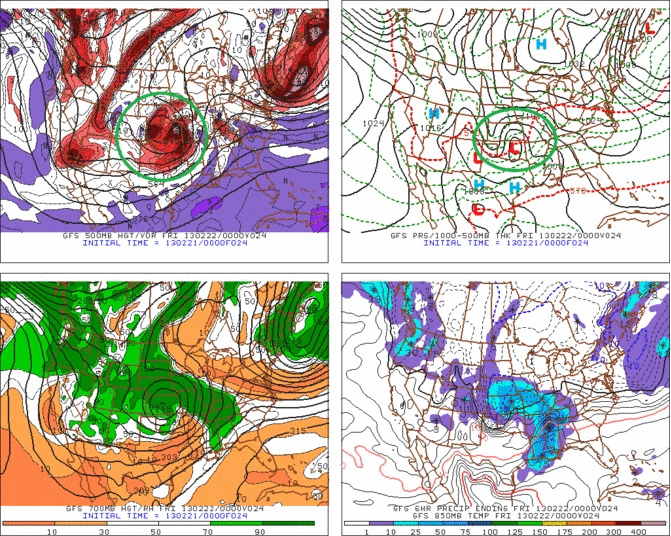 The European Model is very similar. Makes a slightly stronger coastal low, and weakens the northern low, as comapred to the GFS but overall…it's about the same.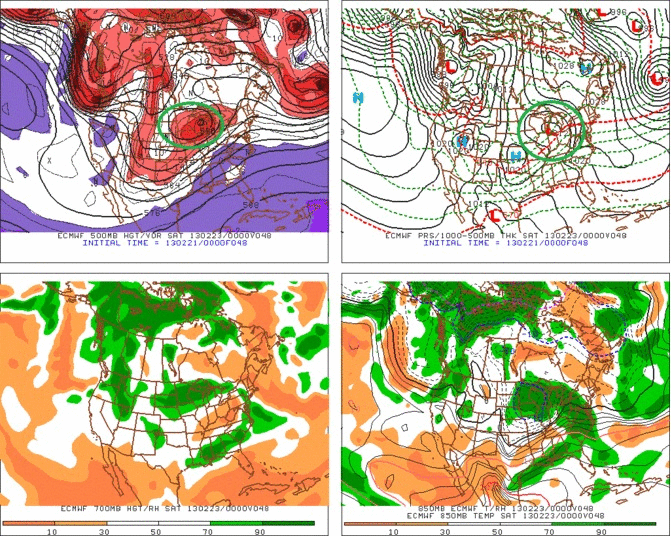 Now, some of you have seen talk about these storms already. Not to be a dick, but any predictions at this point as to what kinda snow this event is going to make, and where it is going to make it. Especially, when such a prediction uses a "clown" map, is just silly. We're a ways off from this event unfolding and so measured, analytic terms are appropriate.
For now, the models are spitting out pretty heavy totals for Northern VT.
Here is a sample for Jay Peak: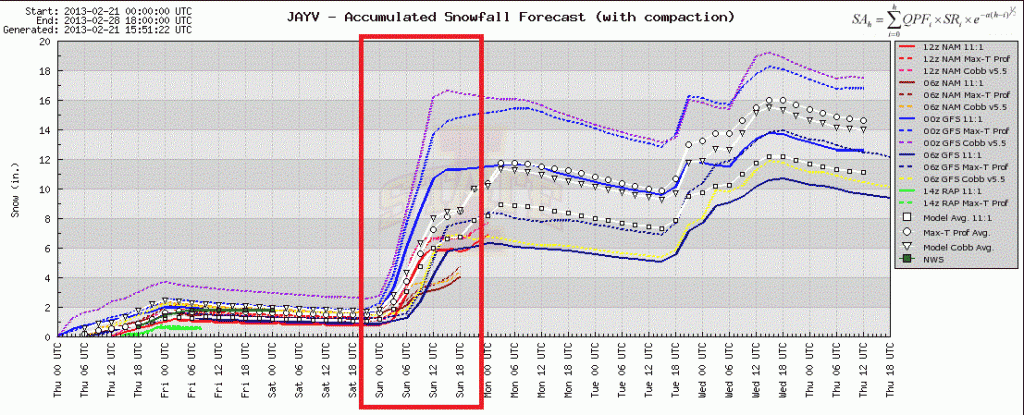 Looks awesome right?
Well I don't believe it. I think (oh and as I type this the 12z model suite comes out supporting my point) that this storm is going track further s/e than previously modeled. So lets pull up a diagram to make this point. In the image below the red arrow is generally the modeled track.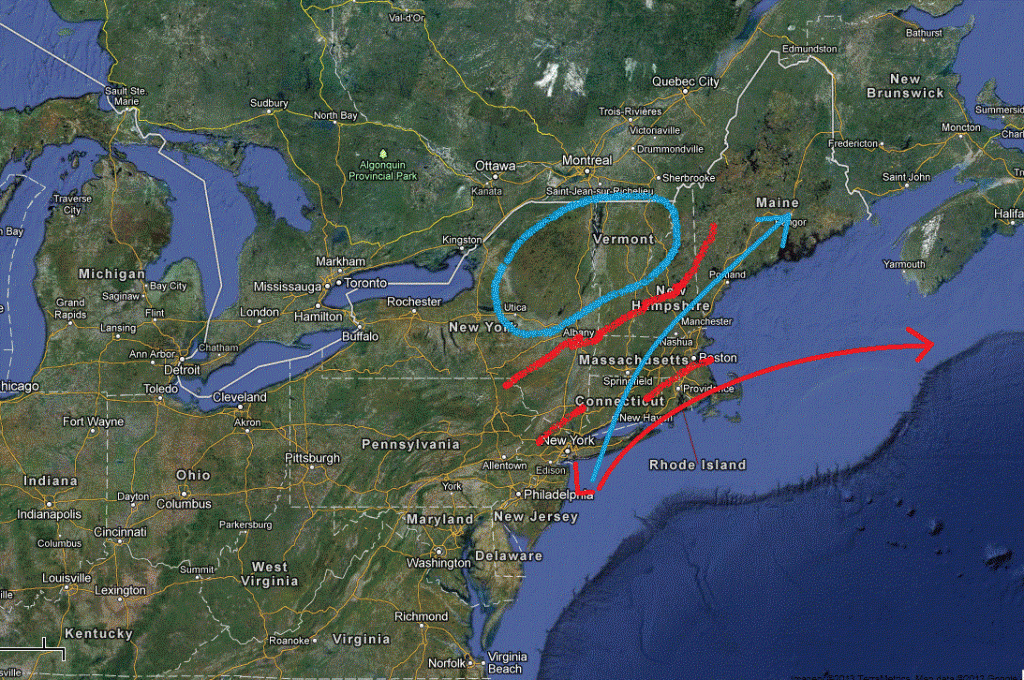 When mid-latitude cyclones move up the east coast of the U.S. the dynamics of the triple jet structure associate with them creates a pocket of heavy snow to the N/W of the low. Normally that area doesn't extend much more than 50 or 100 miles to the N/W from the track. Beyond that, atmospheric dynamics favor a sharp cutoff of precip. So when a model throws off a ton of precip way northwest of a coastal low, I'm skeptical.
For real pow to impact the ADK and VT, I'd like to see at least a track matching the one outlined in blue. Now, that's not saying we can't get a good pow from the red track. In fact we can. More likely it will come as did the best pow in Nemo. From an interaction with the "northern" low's warm front and moisture from the southern low. That's tricky to forecast and right now I don't see it. Nor do I see how, if the low tracks as modeled, (and accounting for today's slight eastward trend) that we get a major dump out of this. I'm of course leaving my forecast open to adjustment. For now I'm going with something like 6-10 in the ADK and Nor. VT, Whites and N/W Maine. Possibly more in the Catskills, Berks (way more) and again, So. NH.
So I guess you'll just have to deal with the 1-2 feet of new upslope snow…Life's so hard.
UPDATE, FRIDAY AM (Pre-poo)
So first, an update on the weekend storm. We're still in line with my basic thinking outlined above. Coastal low takes a fairly flat east/ne track. That's going to put the heaviest snow band, Sat night thru Sunday, in the Catskills (mixing), Mass, and Southern NH. North in VT and the #ADK I think about 3-7 inches of snow will fall. Some models are showing an elevated tongue of moisture affecting the champlain valley. Not sure I believe a) that idea and b) that such moisture will not actually fall on the spine. So, lets say there is a chance (under 50% that some areas in the Central spine- Kmart thru Sugarbush) pick up 8-10 inches of snow.
Now we turn to Utah. On Saturday, a classic cold UT cold front will hit the Wasatch. With good moisture through the 700mb level, plenty of lift, and nice cold temps this has all the makings of a very good pow. Timing wise I think some light snow will move in Friday – late afternoon- with the heaviest snow coming saturday thru saturday night. The GSL is pretty warm, and the air incoming is fairly cold. So if the winds line up right, and it looks like they might late saturday, early sunday am, I think we might even get a little lake effect action. Over all I think this is a quick 10-20+ type storm for LCC/BCC and maybe 6-10 elsewhere.
Lastly, I'm VERY VERY interested in next week for the N/E. I like the idea of a cut-off stationary low parking over the N/E. It just makes sense. It's happened several times before, particularly in years with an ENSO signature similar to this one. It also commonly happens this time of year. So I see NO reason why the consistent model solutions aren't 100% viable. Will they play out. I dunno. But I'm watching it closely.
End Update
–Lionel.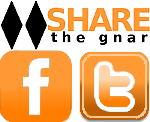 Tags:
Lionel Hutz Weather
,
lionelhutz
,
lionelhutz ski weather
,
Powder Skiing
,
Upslope snow
,
Vermont
,
Vermont Powder Skiing
,
Vermont Ski Weather
,
Vermont Upslope Snow
,
VTah
,
Weather
18 Comments
Please consider visiting our sponsors.
Leave a Reply