VTah Part IV — The Most Surprising Snow on Earth!
February 6, 2010
Every winter in New England there is at least one weather event that truly tests the sanity of The East Coast Skier. Although The East Coast Skier's mountains are quite far north in comparison to resorts in the western United States, they are relatively low elevation, and are close to a warm ocean. Because of this, sometimes there are days in New England when it's going to rain. Monday January 25th was one of those days. With a brisk wind out of the south-east, temperatures rose into the mid 40s at all elevations, and a soaking rain–heavy at times–doused the heart of The East Coast Skier. In that dark moment the East Coast Skier undoubtedly looked west, and considered a life without soul searching rainy days in January (and delicious real beer) in exchange for a life with reliable, predictable, and great snow (and 3.2% beer).
As we have documented before however (see parts one, two or three), VTah is a surprising place. While one day can truly decimate the resolve of even it's hardiest gravity enthusiasts, the next can truly lift them to great heights. On Wednesday January 27th our own Scott Braaten wrote the following which sums up what occured less than 48 hours after a devastating rain storm slammed the region:
"Its alllllll good. Just got home after what was quite possibly the best powder morning of the season…following what was quite possibly the worst ski day of the season (yesterday).
I definitely under-reported with 6-8″ this morning… there's a solid foot across the top half of the mountain. Skied everything and it was all blower. Streams and creeks were open and are now filled with 10-12″ of
snow… as long as you are cautious, its game-on again.
Today was the best of days… un-forecasted powder day with the majority falling after the skiers/riders had left yesterday and even with only 2-3″ down in the town of Stowe, no one had any idea it would be face-shot heaven up there."
To the East Coast Skier's chagrin, the surprises have continued right up to this very moment. Almost every night since January 27th, the Green Mountains have managed to find moisture hidden in the stiff Arctic breeze, and wring it out in the form of pure VTah blower. While the valleys received nearly no snow whatsoever, the mountains became buried by round after round of "nickle and dime"–or "magic snow" storms as our own Lionel Hutz likes to say… and of course we decided to go skiing. While other skiers resigned themselves to the groomers for fear of hitting the dangerous ice crust buried beneath the surface, we went out in search of the deepest, softest, and most surprising snow on earth… here's a pictoral record of what we were surprised to find in VTah.
The first day Greg got out with a friend he hadn't skied with in a long time, and both were surprised by the quality and quantity!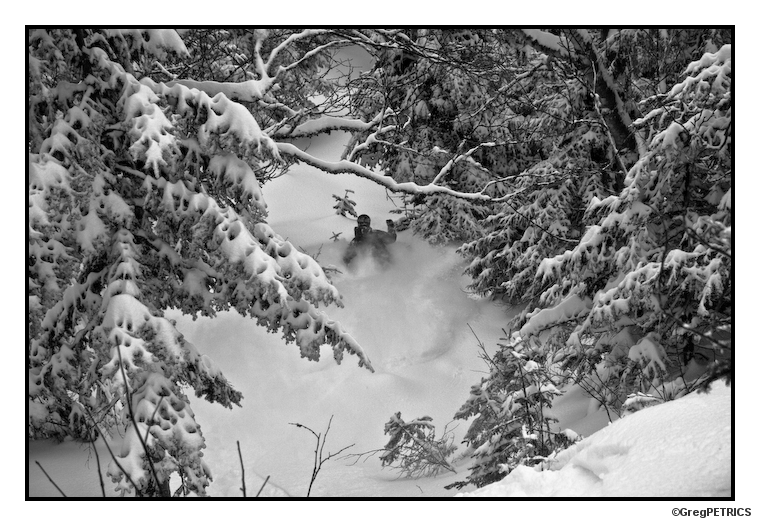 After a few tentative turns before the surprise wore off, we decided it was time to rip.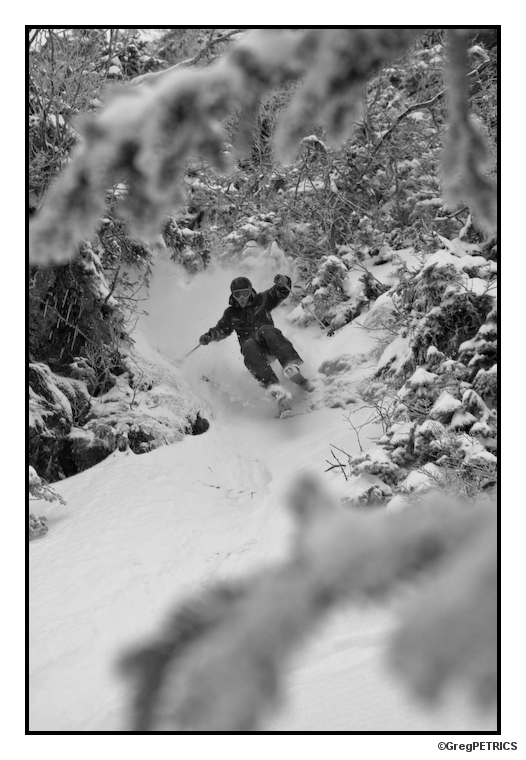 …and then get deep.

About 28 seconds after the above photo was snapped, Greg sent Ben a text message simply saying: "Waist deep easy." Since the moment of that text message that's been the name of the game. Needless to say, it wasn't long before Ben left the confines of his academic endeavours and joined the party.

---
Read about the author:
The F.I.S.
---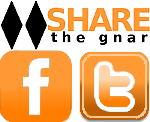 9 Comments
Please consider visiting our sponsors.
Leave a Reply