The (Other) Winter Carnival Part I: Unconventional Terrain
February 7, 2011
There is no better way to describe the last few days of skiing in Vermont than as a "winter carnival." It all started last Wednesday when a dynamo of a storm spread a thick shield of fluffy snow across VTah. Snow showers and sunny skies then alternated on-again-off-again for several days until yet another storm took aim for the weekend. Over several TRs to be released over the next few days, we will be detailing the high points of this week as we got to enjoy them. Today's TR covers the "unconventional terrain" portion of our little Winter Carnival.
After last Wednesday's storm, Ben and I happily noticed that a certain line high in a mountain pass of Vermont which we had had our eye on for several years was receiving copious wind loading, and might almost be ready to go. My interest in this line dates back to Sam's several-year-old Big Game Hunting TR, which inspired me to look around and find options for skiing in places I might not have previously considered. After viewing that TR, I went to one of my favorite viewpoints and essentially just stared at the mountain, until suddenly the line simply presented itself. Tracing its way down off the ridge, from high to low the line includes all the types of skiing that Vermont has to offer: a dense "bushwhacky" orienteering challenge; several tongues of snow hanging precipitously above sheer ice cliffs; a rappel over a chossy mixed climbing route; ski chuting ice flows pinned between rock walls barely wide enough to fit one's shoulders through; thrilling powder turns hanging between mandatory technical ski maneuvers; a 15 foot mandatory boulder huck to an "eagle-eye" landing adjacent to a cliff wall; wide open alpine powder skiing; and finally a perfectly nestled window in the forest in which to make a few glorious turns. Indeed, this line has it all.
Last season, we waited the entire year but the line never came in as fat as we wanted. Instead it seemed like its neighbor wanted to collect all the snow. This year however, we have been eagerly watching as the wind loading appeared to be favorable during each winter weather event. This week it was finally ready.
As you might have guessed, based on my rough outline of the…line(? gee that sounds awkward)… there would be little room for snow instability once off rappel. The only reasonable option once the rope was pulled–as the snow pack itself knew–would be down. To reascend the rappel route would have taken us near the edge of our climbing abilities, and likely resulted in "type III fun." As such, we decided to do a preliminary run on a similar aspect to check snow stability. It was stable, except it had a tendency to get in your face.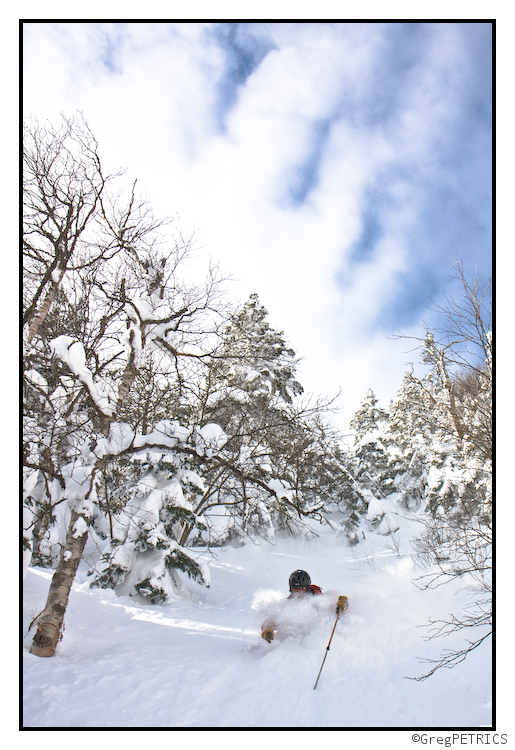 Sorry, I couldn't resist putting a faceshot picture in a TR. Seriously though, we found some smaller terrain features that were of a similar aspect, and were pleased with the stability. We called Chris Nelson to get lined up across the notch, and then we set off to finally ski the line we had been dreaming of for several years. This got us some looks.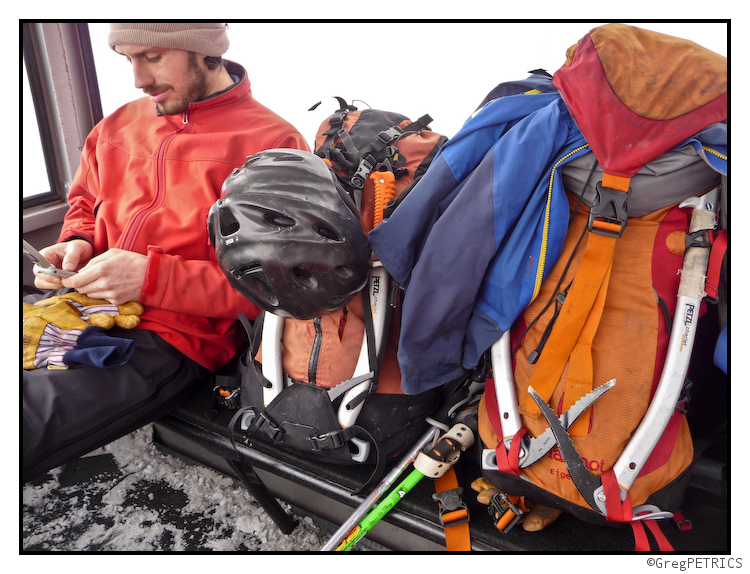 We used alpine touring equipment to push our way out through dense bush, aided by the navigational GPS waypoints we had set for ourselves during the several summer outings we did to scope the line. Eventually as we pushed closer to the primary objective, things started to open up a little bit. Still, the skiing was tight and delicate as we hooked plenty of ski tips around krumholz and saplings.

After a careful descent through the trees, we came to a critical juncture. If we went down further, there would be no easy return. At this juncture we could still reasonably skin out (albeit over the course of several hours and through dense pine forest). However below the juncture the terrain became too steep to skin. Bootpacking up and through several feet of unconsolidated snow on steep terrain would be our only option if we had to turn around. Ben and I exchanged a few passing comments about the weather, and proceeded to descend.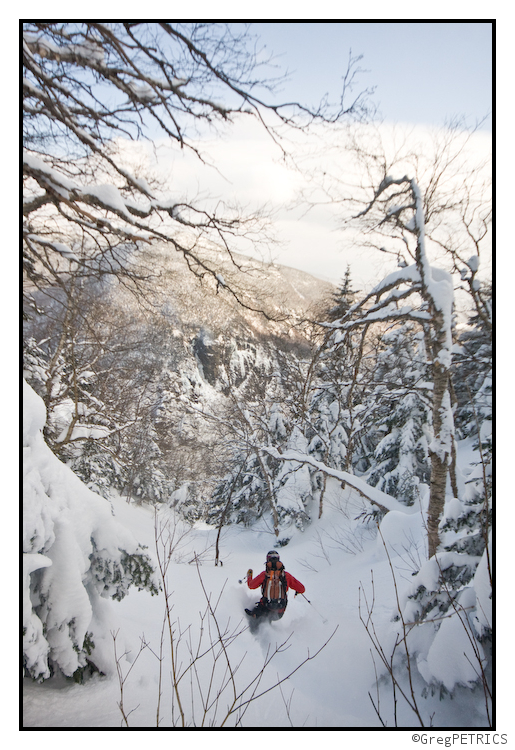 ---
Read about the author:
Greg
---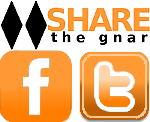 50 Comments
Please consider visiting our sponsors.
Leave a Reply