April 28, 2010 7:00 am | Category:
Weather
Mad about the fact that those darned Famous Internet Skiing kids have been skiing powder? Well its not too late to get some of your own as a late season system looks poised to send us back to winter? Here is the story:

4/28 I'm not doing work update (11 am)
Looks like the system is still cranking. We're actually dealing with synoptic snow at this point. Upslope is enhancing amts but this is just a plain and simple awesome storm.
A quick peek at the radar shows two interesting things. First that some good snow should also be found on pure north and even northeast facing slopes. Second, the high whites are not getting shadowed as badly as they do in some other upslope events. According to the most recent model data, which I like based on the similarity between current conditions and 0hr in the model output, the MTW region could pick up another 1 inch or so of liquid by late tonight early tomorrow am. The storm will shift from the greens towards mtw in the latter time frame. So if you run out of powder– head east.
P.S. – Two days ago I wrote : "North and Northwest facing slopes of the ADK should do well too. Lyon mountain's northside might hold some real nice snow." NWS confirmed spotter report as of 747 AM: LYON MOUNTAIN 15.5.
4/28 Morning update
This sucker has already packed a real punch. According the the FIS network of spies and informants 11 inches had fallen at Stowe –AS OF LAST EVENING– with nukage still ongoing. Don't believe me? Look for yourself: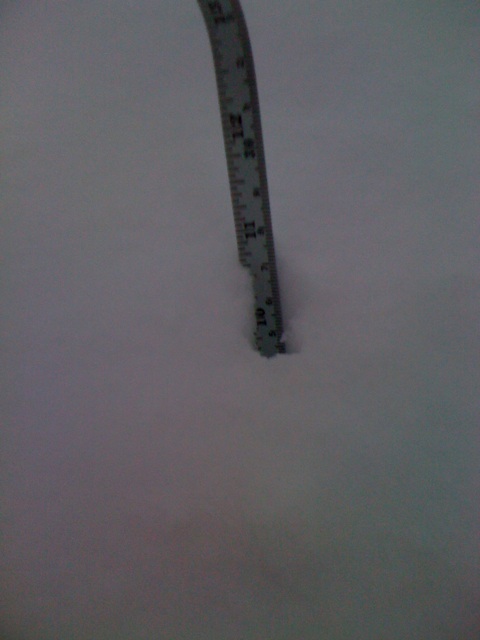 From the time that picture was taken, Models predicted another .5 to 1.25 inches of water up and down the entire spine of the greens, the northern Adirondacks and on into the MTW region. Looking at the radar it's clear that this system is still dropping snow at a real solid rate giving a fair degree of credence to the model output. Also, if you look at the spin of the system you can see how moisture is going to move down south along the entire spine of the greens. Just because Manny is getting buried doesn't mean there isn't going to be stuff to ski at K-mart and MRG.
All in all this is quite the late season storm.
Totals are going to range from TWO FEET (found along northwest facing slopes of the northern greens) to 5-6 inches (found in southern portions and lower terrain. So yea…go get some.
4/27 Digesting Lunch Update
Two quick points.
1: Latest models have come in wetter for Northern VT and Mt. Wash. With temps already supporting snow to under 1000 ft (if you don't believe me check out the awesome webcams on the weather dashboard. A great tool!) it's starting to look like the some large numbers will be out there by the end of this event. Biggest winners will be MTW and Jay Peak region.
2. North and Northwest facing slopes of the ADK should do well too. Lyon mountain's northside might hold some real nice snow. Maybe N/W facing slides of Street/Nye. WF auto road might be filled in well until the high turns.
4/27 Morning UPDATE
Things still look good for a significant upslope snow event over the next 36 hours. As I type this the upper level low is working to cool the atmosphere. 850mb temps are hovering around 0c and should drop below as the day progresses.
Simultaneously, a moist airmass will be rotating through resulting in upslope snow. The position of the low looks better today than it did yesterday and therefore I'm going to up my snow totals.
If you follow the GFS and NAM bufkit guidance for Jay peak and SLK (the only sites data is churned out for) we are going to be looking a real winter upslope event. Like REAL. Bufkit puts Jay at close to 24 inches by Wed. 2pm. Now I think bufkit has some serious problems. However there is significant model continuity between the high res models regarding total QPF and the bufkit.
Here's the WRF: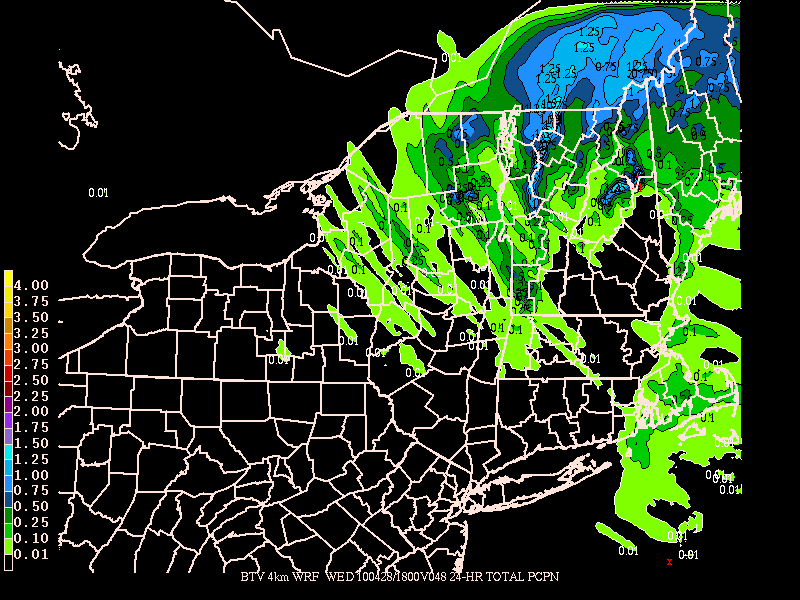 Here's another hi res model:
However I think the ratio's are wrong. Despite the good temps in the snow growth region and moderate winds aloft I think a lower ratio is wise.
Here's my best call right now:
Spine of Greens: 6-10 inches with pockets above 12. Jay 8-14. Mtw: 12+ if we don't get too much shadowing. Now here is the thing that concerns me. There are some indications that the winds in the 700mb layer will be vary their orientation for brief spells. Consistent winds are really necessary to keep the system moving. If we see a bust total wise you can be sure that the wind variances were to blame.
In the meantime keep up to date with radar, satellite, current observations and a lot of other weather information over on the weather dashboard.
OLDER
A large upper level low will spin through the north country over the next 54 hours. As it moves over the Greens and out to the east from Tuesday into Wednesday, it will bring cold air into the region and turn the flow to a N/NW flow. As it does so, relatively moist air will rise and orographic snow should result across the Greens from maybe as far south as K-Mart up to Jay Peak.
Now a few things.
NWS is very bullish with storm totals as is Jay Peak. I'm less so. I don't love the orientation of the system or the model continuity w/r/t RH levels and 700mb omega. I don't love the continuity of the wind flow from 2m up to 15000 feet. Lastly, I don't love the RH values staying high enough to get sustained snowfall. Plain and simple, this isn't a perfect set up for upslope snowfall. However this isn't the perfect season for snow so we take what we get.
Personally I think 6-8 is reasonable across the favored higher terrain. Some micro location will get more. It just happens that way. Were I to place a bet for where that would be…I'd say the small stretch to the SW of Lake Champlain. From say the Bush south to K-Mart looks situated just right to pick up the best cross border flow with the heaviest period being late afternoon and evening tomorrow.
With that said, this is certainly an interesting late season system that has the clear potential to produce some significant late season snow.
If i were to compare it to any system this year, I'd prob. go with some of the late fall storms. The october storms and the Thanksgiving systems are similar with regards to temp. profile and dynamics. However looking back I don't "feel" like these systems are the best comparisons.
In the meantime why don't you check out the boys' latest TR about powder skiing on Mount Washington to whet your appetite for the good stuff.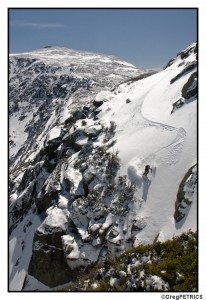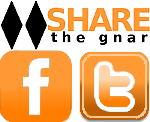 Tags:
Green Mountain Upslope snow
,
Green Mountains Vermont
,
Green Mountains Vermont snow forecast
,
Green Mountains Vermont Upslope Snow
,
Jay peak snow potential
,
Late Season Snowfall
,
late season upslope snow event forecast
,
Ski Weather
,
Weather
18 Comments
Please consider visiting our sponsors.
Leave a Reply